'Power, The Press & The Presidency' at Boe Forum: Journalistic Icons Woodward, Bernstein Discuss Politics Throughout Modern History & Today
In an era of fake news and attacks on journalism, Bob Woodward and Carl Bernstein shared their experiences as investigative reporters and brought an insider's view of the power, press and the presidency to the 23rd Boe Forum on Public Affairs.
The free ticketed event, presented by Augustana University and the Center for Western Studies, was attended by just under 4,000 people and held March 19 in the Elmen Center.
The icons, who have shaped the landscape in their reporting, offered their insight and perspective on journalism and democracy in the world today, as well as objective news reporting in today's hostile climate.
Woodward, a best-selling author and associate editor at The Washington Post, captivated the audience with fascinating, and at times, shocking stories from today and the past to reveal what's going on in the political world in an age of around-the-clock news and social media. Woodward is the author of 19 books, and his latest, FEAR: Trump in the White House, sold more than 1.1 million copies in its first week in September 2018 — a record for publisher Simon & Schuster.
Bernstein, whose most recent book is the national bestseller, A Woman In Charge: The Life of Hillary Rodham Clinton, shared the inner workings of government and politics framed around his experiences in Washington.
"Woodward and Bernstein, starting with their coverage of Watergate in the early 1970s for The Washington Post that led to President Richard Nixon's resignation, have subjected every administration since then to rigorous analysis that benefits Americans," said Dr. Harry Thompson, executive director of the Center for Western Studies at Augustana University.
"The Pulitzer Prize winners' insight and perspective on journalism and democracy in the world today is highly engaging and thought provoking," says Augustana University President Stephanie Herseth Sandlin.
Before the event, Woodward and Bernstein participated in a student-only press conference. Writers from the student- run newspaper, The Mirror, along with 80 high school students and 50 Augustana journalism students, were able to ask well, thought-out questions about life, speakers' experiences and how politics has changed throughout the decades in Washington.
Of course, much of the discussion surrounded the Watergate scandal. "The biggest pressure there was, we were afraid to make a mistake," said Carl Bernstein. "But we knew we had to keep digging and doing the work."
Bob Woodward credits the Washington Post, namely the owner and publisher at the time, Katharine Graham, as being their biggest support system.
"She supported us on the whole story," he said. "She didn't tell us how to do it but she was still engaged, nonetheless. I remember we were having lunch one day and she asked when the story would be done. I looked at her and said 'never.' She looked right at me and said, 'don't tell me never.' I took that to heart and kept going. Clearly it paid off!"
Many journalism students in attendance of the student press conference wondered how it's possible to remain unbiased in the midst of constant social media, influencers and 24/7 news. Woodward said, "you just need to make sure you've been fair and steel yourself for criticism."
Woodward went on to tell students when it comes to reporting, do the work of making phone calls and doing interviews in person when possible. His biggest piece of advice when asking for an interview? "There are four magic words in journalism: I need your help," he said.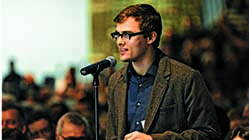 Jacob Knutson, editor-in-chief of The Mirror, admitted he was nervous meeting the journalistic icons. "They are the pinnacle of journalism," he said. "But meeting them and listening to them gives me hope for future fair and accurate reporting."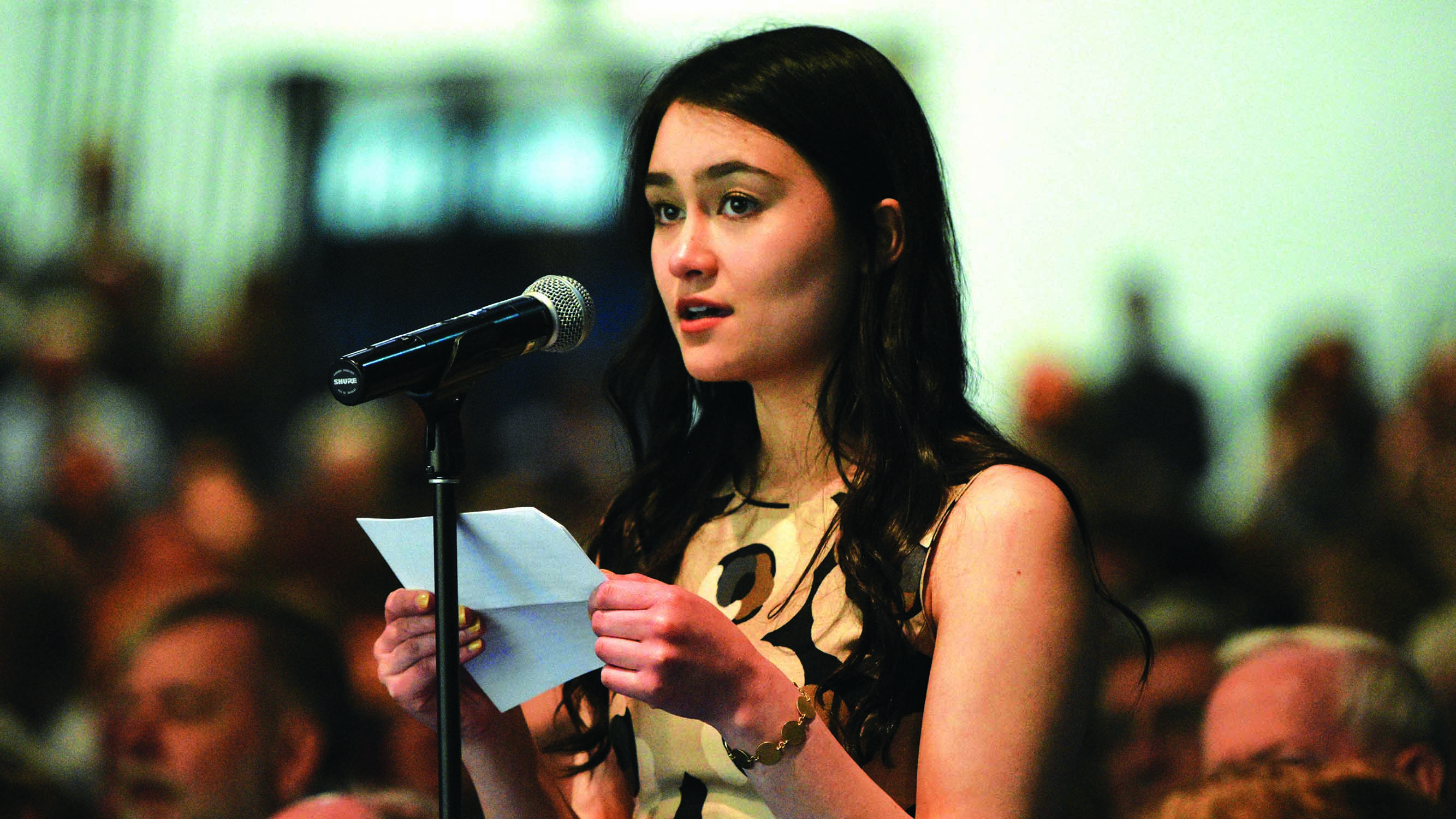 Kaatje Weiland, editor-in-chief of the yearbook, The EDDA, agreed with Knutson. "They're huge figures in journalism," she said. "I didn't want to let them down...their experiences have shaped their entire lives. It was an amazing day."
Both students said they left the day's events inspired. "I am going to work harder," Knutson, who is a senior journalism major and government minor, said. "They told us as reporters we are going to get knocked down and roughed up but you have to get up and keep going."
Weiland says this year's Boe Forum speakers affirms her career focus. "I came in as a freshman who was undecided on a major," the junior journalism/media studies major, and German minor, said. "But after taking [Dr. Janet Blank-Libra's] newswriting and reporting class and more classes in journalism and now today, there's no doubt this is what I'm meant to do."
Past forums have included U.S. Secretary of State Condoleezza Rice, astrophysicist Neil deGrasse Tyson, Archbishop Desmond Tutu and the late President George H.W. Bush among other speakers who address events, issues or problems of worldwide or national concern and of broad public interest. To see more photos of the day's events, visit augie.edu/boe.
---
Greta Stewart
Editorial Strategist
605.274.4618