Dr. Sally Mallowa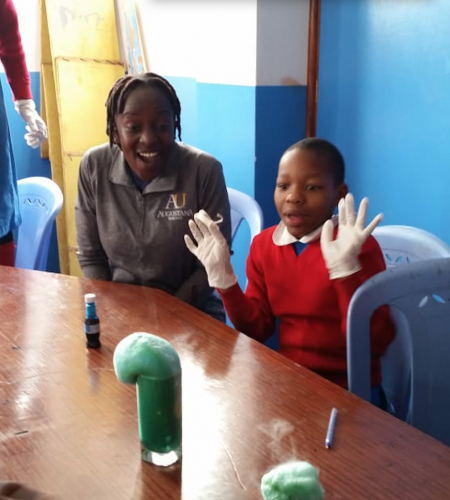 Dr. Sally Mallowa
Assistant Professor, Biology
Q. What are you currently doing in your everyday life for sustainability?
A. I am learning in my everyday life to simplify and have only what I need. It's hard to believe we started off with suitcases. It's easy to amass a lot of things that we do not need, which is just storing resources or creating a non-existent market. So I try to use everything in moderation--water, electricity, food, money--which is easy to do if you don't have too much.
Q. What are you currently doing at Augustana for sustainability?
A. This year I taught a class on global food security. Researching and teaching the class was really awesome. We made some great connections in class and outside of Augustana. I think an important piece of this class was the service project where students volunteer in different service projects. Students came up with projects related to sustainability including contributing/volunteering at the Sodexo-led vegetable garden and avoiding food waste by volunteering at food pantries. I believe this class creates a platform that allows students to be engaged in activities related to sustainability. In Biology 110, we talk to the students about the environment and try to encourage them to be a part of the solution.
Q. What are your plans for increasing sustainability in the future?
A. I am really excited for there to be an interdepartmental major/minor on environmental science. This will definitely be a welcome resource to help address sustainability issues. I would also like to challenge student clubs to be involved in activities that support/encourage sustainability.
Q. Why are you interested in sustainability?
A. I think we all need to be good stewards of our home. It's simple and it's something we have been hearing about since elementary school, yet as time passes the zeal to be a part of affecting the change we want to see around us vanishes. This summer, I was honored to work with some students in the largest slum in Africa. They are disadvantaged in so many ways because there are no trees, the air is polluted, the water is polluted, and the community is trying so hard to get out of the situation. I am so blessed to be where I am. Part of being appreciative is taking care of our resources and teaching adult learners and students around the world to do the same.
Q. What tips do you have for other Augustana faculty/staff who want to be more sustainable?
A. Start where you are with what you have. A colleague I really respect walks to work each day. Snow, rain, or sunshine, I find that she is actually living and taking action in relevant ways that are not easy and require sacrifice. She is leading the way in being the change she would like to see.
Simplify and recycle as much as one can! If you don't need it don't buy it. What happens to all the clothes and shoes and furniture and electronics we don't need? They end up in the landfill or on a ship to somewhere else where selling scrap metal is big business.
There is a whole second-hand clothes industry in the developing world. Because in the developed world, we have so many clothes and shoes that can still be reused yet we still buy more. Walk through a mall or a market in Africa and you will be awed by all the second-hand clothes available. I once met a lady from Russia who only shopped in consignment stores and thrift stores because she was totally sold on the idea of why have a recycle clothes industry if we will not make use of it.
Q. What do you think is the easiest way to be more sustainable?
A. The easiest way to be sustainable is to think global and act personal! It's back to kindergarten principles--everybody do your share! Every activity that makes a positive difference should be encouraged. Nothing is too small.
Q. In what ways do you think Augustana needs to improve in (related to sustainability)?
A. I think we can put more effort into sustainability becoming a culture at our institution. We are off to a great start with clubs related to sustainability, but the number of activities and the level of commitment and involvement by the Augie community can improve by a lot! It's an important issue and a lot of people are ignorant or don't care. It should be our goal to increase the visibility of these activities several-fold.
Q. What would you tell an Augustana faculty/staff member who says they're "too busy" to be sustainable?
A. Sorry, it comes with the territory! Being a teacher comes with being a role model and being involved in a community and our future does depends on it, so we can't be too busy. Every little bit counts. Do what you can where you are with what you have. Nothing is too little.
Q. What does sustainability mean to you?
A. Sustainability to me means creating opportunities for young people to be involved in activities that ensure tomorrow will be a better world for them.