Augustana Art: Then and Now
Augustana Alumni Invitational Exhibition
Exhibition: October 7 - November 6, 2010
Eide/Dalrymple Gallery and the Center for Western Studies
Artists' Gallery Reception: Thursday, October 7 from 5:00 – 8:00 p.m.
Joint receptions at the Eide/Darlymple Gallery and Center for Western Studies; 5:30 p.m. Curators' welcome and talks, Eide/Dalrymple Gallery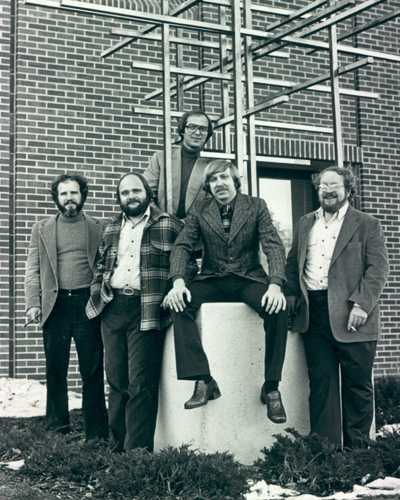 Call for artwork: In celebration of Augustana College's 150th anniversary, the Eide/Dalrymple Gallery, in conjunction with the galleries of the Center for Western Studies at Augustana College, will be hosting a major alumni invitational. We seek submissions of an example of your recent artwork and, if possible, an example from your student days. (Please let us know if you have artwork that is a part of Augustana's art collection that you would like to have displayed.)
Graduates of the Art department can submit up to three pieces; additionally, we would love to have one work from your student days, though this is not a requirement to exhibit.  Each artist will have at least one work displayed.  For artists interested in submitting more than one piece, we will have a preliminary jury of works to ensure that there is enough space in the galleries—this will be done through digital images (jpgs preferred) or photographs, and images with complete information must be received by September 1, 2010.
Alumni artists interested in exhibiting works must submit complete information for each piece by Wednesday, September 1 to lindsay.twa@augie.edu:
Artist and Graduation year
Title
Date
Medium
Dimensions
Insurance/Sale price
Artists are also invited to submit an artist statement and/or reflections or stories about your experiences at Augustana and in the art department.

  
All works must arrive at the Eide/Dalrymple Gallery no later than Thursday, September 30. 
Works can be accepted earlier and stored for the exhibition. 
Works should be delivered directly to the Eide/Dalrymple Gallery, in the Center for Visual Arts (30th St. & Grange Ave) during open gallery hours, M-F 10:00 a.m.-5:00 p.m., Saturdays, noon-5 p.m.  Works can also be shipped to:
Dr. Lindsay Twa
Attn: Alumni Invitational
Augustana College
2001 S. Summit Ave.
Sioux Falls, SD  57197
All artwork must arrive ready to be displayed.
Direct questions to Eide/Dalrymple gallery director Lindsay Twa: 605.274.4010.