Vice Admiral Lyle Bien's Commencement Remarks
The following remarks were delivered by Vice Admiral Lyle Bien, class of 1967, at Augustana's 2012 Commencement ceremony, held on Saturday, May 19, at the Sioux Falls Arena.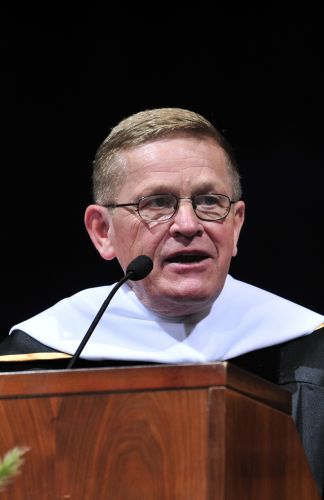 ***
Thank you, Rob, and thank you Augustana. I have never made a secret of my affection for this institution. Long indebted to Augie, my debt is now much greater than I can ever repay. I feel very humble.
When Carl Vinson, 51 years a Georgia Congressman, rose at the commissioning of the aircraft carrier that bore his name, he said: "Today, my star has reached its zenith."
I don't know if I have a star, but if I do, today it has surely reached it's zenith.
What a glorious day. Forty-five years ago on this day, in this building, I was sitting where you are. I confess to remembering very little from the guest speaker.  But I remember where I sat (end of row 4) and I remember daydreaming about my future through most of the ceremony.  So I know what I'm up against.
But before we start I propose that we acknowledge some from your life who helped create the magic that brought you to this day.
Each of you is a purposefully shaped and beautiful product of churches, schools, your community and, most importantly, family and friends.
Whether you always knew it or not, all of them loved you and wanted nothing more — but would settle for nothing less — than for you to be happy, fulfilled, embraced by a clear conscience, and made of the kind of stuff that you could look in the mirror each day and be pleased with.
They rooted for you, provided for you, prayed for you, boasted of you, shaped your character, and steered your soul. They were the strong hands on the tiller of your being that got you safely — though perhaps not debt free — to this point. They have been at your side in the making of your wonderful life, and it is a safe bet they will be close at hand for the rest of your journey — a journey that begins today.
If there is someone here in the crowd who helped make you who you are, will you stand and turn in their direction and applaud their labor and their love for you?
Of all that you can rejoice in today, be thrilled that your degree is from a distinguished liberal arts institution. If the projections that say you'll have five to seven full-time jobs in different fields in your lifetime be true, then it's a safe bet some of them will not be in your major.
But with your degree in liberal arts you are schooled in those indispensible qualities of writing, communicating, critical thinking, problem solving, and being the one with the right questions. UC Berkley touts their liberal arts school as "making you a more interesting person," and my favorite, "life is Liberal Arts."
You will thank Augustana for many things over the course of your life.  But I wager that of all that you are taking from here, the liberal arts quality of your education is the one you will access the most.
Swirling around you right now is a long list of challenges, opportunities, temptations, goals, beliefs, ambitions, perhaps even some fears, and you in all your impatience to get out there and master them. Let me help you shrink the list.
Start with a renewed commitment to family. When friends drift away, and co-workers find other interests, what you have left is family. Guard them well.
Protect your health. We spend a lot of time conditioning our minds and shaping our souls and nurturing our friends. You've got just one body. Take great care of it. Life gets to be a lot less fun when your health falters.
Nurture your conscience. There is one constant companion who will be with you every day of your life .. your conscience. It can haunt you just as it can comfort you and make you proud of who you are. I hope you live your life in a way that makes your conscience the best friend you will ever have.
Rejoice in your faith. None of us can make sense of this complex world through reason alone. Some things just have to be taken on faith. A life with a deeply held belief in the guiding hand of a loving God is my hope for all of you.
And lastly, retain a sense of awe over little things and try not to clutter your life with so much that you crowd out the time and the temptation to wonder.
If I were to poll all of you for what you think most contributes to successful leadership in the working world, it would be a very long list. I think in practice it is a rather short list.
Choose a profession you are passionate about. And if that passion starts to whither, perhaps it is time to move on.
Your lives will be about leadership, and leadership is about conveying messages and ideas. If you are not an accomplished communicator, become one.
Not everyone you work with will have your talent or your ambition. Treat those people with compassion. They will be grateful, and if you ever end up working for them, perhaps they will remember.
Moral credibility. People work best not for people they fear, but for people they respect. Nothing will inspire them more than their knowledge that what you are asking of them is prudent, and never more than you would ask of yourself.
So enough on the 'how-to's.' After all, you have had 22 years of parental guidance, and now 16+ years of formal education telling you how to 'do' stuff. Starting right now, you are about to learn how greatly all that matters, just as you'll surely come to know how much more you have to learn — learning that should go on the whole of your life.
We are all bound by, defined by, our beliefs, our values, our experiences, our aspirations, even our hopes and dreams.
Here, to close, are some of mine:
I believe that Scandinavian blood, even in small quantities, can make women beautiful.
I believe that money and material things are a poor measure of a man's worth.
I believe that the earth and her resources are very finite and that if we continue to abuse them as we have for the last couple centuries we will eventually make the earth uninhabitable.
I believe that of all human traits, humility is amongst the most endearing, is in great demand, but always such short supply.
I believe that Government handouts and entitlements can destroy the self-sufficiency of societies just as surely as hand feeding can destroy the instincts of animals in the wild.
I believe that a lifelong quest for knowledge is noble. But knowledge without courage and common sense loses its value.
I believe that eternity is a long time. And if you are planning to spend yours in the bosom of a loving God, then shouldn't you get to know Him in this life?
I believe that a firm handshake, a genuine smile, and looking directly in someone's eye can often convey sentiments, messages and emotions far greater than words.
I believe there are occupations that are as much about romance, awe, grandeur, inspiration, and imagination as they are about labor. I hope your life and your life's work are rich in those qualities.
I believe that if you use cigarettes, tattoos, and piercings to excess … you'll soon enough regret your choice.
I believe that if you are American and can stand through our National Anthem and not get goose bumps then you need to go back and re-study the history of the American Civil War.
I believe it takes many ills to foster a revolution, but just 140 characters to make it spread.
I believe that bad things happen to good people ... and I don't know why.  But I do know that enduring misfortunes with grace can build a reservoir of strength that cannot be exhausted.
I believe the 536 national level elected officials currently in Washington, DC are failing your trust, and through their self-serving partisanship and un-statesmanlike decorum are placing the future of this republic in peril.  I hope those you help elect will serve better.
I believe that most employers value loyalty, character, commitment and hard work over the skills listed on your transcript.
I believe that when things go badly for you and it's your fault, failure to shoulder the blame is to invite reoccurrence.
I believe there are a lot of evil people in the world, many in positions of leadership. Ignoring their motivations or potential for ruin is to be dangerously naive.
I believe that luck and timing account for a lot of good fortune.  I also believe that good luck and timing rarely just happen by themselves.
I believe that adapting to change may be good for your business, but that preserving tradition is good for your culture. 
I believe there is magic in Augustana College (much of that magic is seated in the first three rows) and that it is indelibly imprinted in you and will advantage you every day of your life.
I believe that the one word that best describes the people I cherish the most, the institutions I admire the most and the societies I root for the most is simply: goodness.
Here is what Alexis de Tocqueville said about that in 1833 as he criss-crossed a youthful America in search of her soul: "America is great because she is good. If she ever ceases to be good, she will cease to be great."
If Tocqueville were here today looking out on you from my vantage, I believe he would see your shining faces and the glint in your eyes and be content that America's goodness ... the source of her greatness ... is abundant still.
God bless you and thank you for having me.