2015 News
German Major Featured in News Article
Tuesday, May 11, 2015
German Major Emily Anderson, 21, of Worthington, is featured in a Dailry Globe newspaper article that highlights here study abroad at the University of Potsdam in German, which is a sister school of Augustana College. Anderson is taking courses in German and is completing an internship at the Märkische Allgemeine Zeitung, a local daily newspaper. Read more.
Four Language Majors Receive MDFL Honors
Monday, May 10, 2015
Four Augustana College language majors will graduate with Departmental Honors awarded by MDFL. To be nominated for MDFL honors, candidates must be pursuing a major in French, German or Spanish, have achieved a minimum overall GPA of 3.4 and a GPA in their language major of 3.7, and completed an honors thesis in the target language with a grade of B+ of higher. The seniors who will graduate with MDFL honors are:
Phillip Elyea—German

Zwei Welten, zwei Supermärkte: Ein Vergleich zwischen Hy-Vee und Kaufland

Eric Habbe—Spanish

Las influencias, la intertextualidad, y el cuestionamiento de géneros literarios en La invención de Morel de Adolfo Bioy Casares

Madeline Nykamp—French

Le Rôle des femmes dans les contes de Bernier, Maupassant et duy Khiêm

Reid Rasmussen—German

Ein Land so stark wie seine Armee: Friedrich der Große und die Residenzstadt Potsdam
Six Inducted into French National Honor Society
Wednesday, May 7, 2015
Six Augustana College students were inducted into the Mu Alpha chapter Pi Delta Phi, the French National Honor Society of college and university undergraduate and graduate students: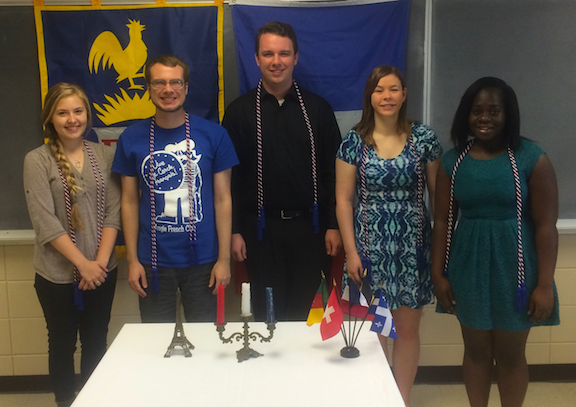 Anna Brufflat
Yaa Offei-Darko
Christian Einertson
Megan Gades
Misael Garcia
Quinn Jacobs
Pi Delta Pi, established in 1906 at the University of California, Berkeley, is the oldest national academic society for a foreign language in the United States and currently has more that 375 chapters and 75,000 members. The purpose of the Society is to recognize outstanding scholarship in the French language and Francophone literature, to increase the knowledge and appreciation of Americans for the cultural contributions of the French-speaking world, and to stimulate and to encourage French and Francophone cultural activities. Augustana's Mu Alpha chapter was established in 1997 and is the only chapter of the Society in South Dakota. The faculty advisor is Dr. Scott Fish.
Eight Inducted into German National Honor Society
Sunday, April 25 2015
The Augustana College Eta Delta chapter of Delta Phi Alpha held a dinner at the Fellows' Presidential Residence on Saturday, April 25. Eight new members were welcomed this spring.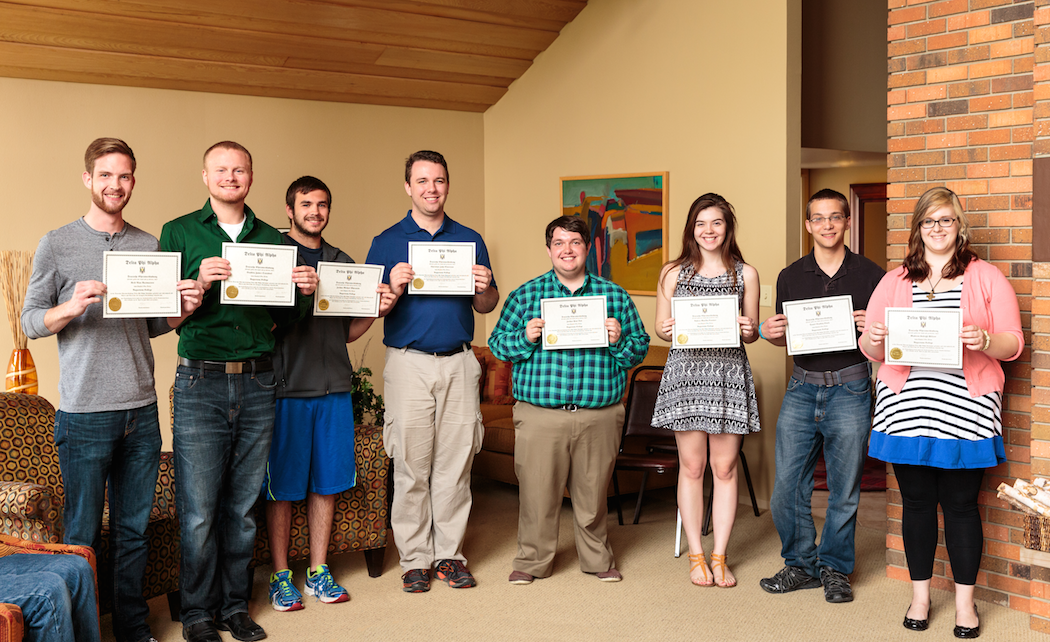 Daniel Block, Pierre, SD
Andrea Conover, Maple Plain, MN
Joshua Dub, Owatonna, MN
Christian Einertson, Marietta, GA
Josh Myroniuk, Apple Valley, MN
Bradley Ostendorf, Andover, MN
Reid Rasmussen, Hurley, SD
Madison Wilson, Hampstead, MD
The advisor of Eta Delta is Dr. Stephan Lhotzky, Professor of German. The Delta Phi Alpha National German Honorary Society began with the founding of the Alpha chapter at Wofford College in 1927, and now has constituent chapters at 236 colleges and universities throughout the United States.
Six Students from Sioux Falls Visit Potsdam, Germany
Wednesday, January 21, 2015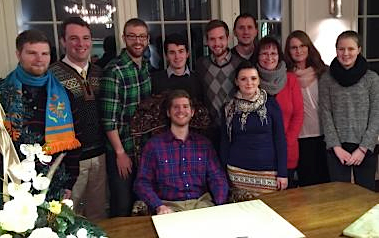 Six students from Potsdam's American Sister City Sioux Falls have been guests in Potsdam since January 5th. Christian Einertson, Creighton Gerber, Keegan Hecht, Phillip Elyea, Reid Rasmussen and Tom Gehring are studying German at Augustana College in Sioux Falls and are using their J-Term or January Interim to get to know their Sister City and improve their German language skills. They also have study projects to work on during their three week stay. Examples of their project topics include the Multicultural Architecture of Potsdam, topics regarding World War I and II, as well as a comparison of the supermarket chains Kaufland and HyVee.
All six of the students are housed with host families. The host families serve to share daily life and the area with the students in their free time. Dr. Sigrid Sommer, Director of the Department of Public Relations and Marketing for the City of Potsdam, explained, "Placing the students with host families is especially important to us. This is the only way that young people can really learn something about the culture and the way of life in another country. We are so pleased to have been able to find such fitting host families for the students." There were already three students from Augustana in Potsdam last January. One of them was Keegan Hecht who is thrilled to once again be in Potsdam. The future German and History teacher has had an internship experience here at the Protestant Hermannswerder Gymnasium Prep School. The six young men will be leaving again on January 26th. A couple of the them are combining their stay with a small trip through Germany. After their return, they will be telling their fellow students about their experiences in Potsdam.
The Sister Cities relationship between Potsdam and Sioux Falls will be celebrating its 25th anniversary this year. The partnership is of particular import because it was entered into before German reunification. Contacts and connections have been growing ever since. Particularly strong connections exist between the Humboldt Gymnasium Prep School and Lincoln High School, between the University of Potsdam and Augustana College, as well as the Brandenburg School for Medical and Social Work Professions and Augustana College. But there have also been many private connections that have resulted over the many years of the Sister City relationship. Proof of that are seven German-American marriages between citizens of Potsdam and Sioux Falls.
Translator's Note: The above Press Release was issued by the City of Potsdam and was posted on Potsdam's website.