Germany and France Interim
ART 397: The Sacred in Stained Glass Art - History and Practice
January 2012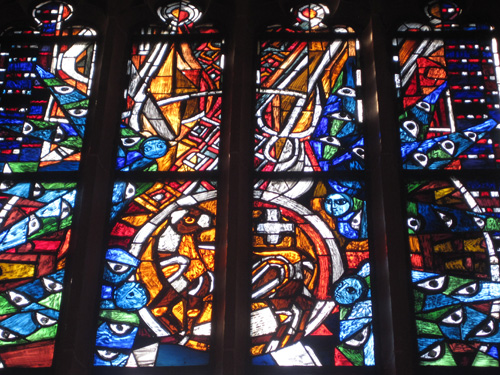 Course Foundation:
This course provides students the extraordinary opportunity to study the history and contemporary studio practices of stained glass art in Germany and France.
The alchemy of fire fusing molten silica with metallic salts, oxides and pigments produces translucent hues of color and opalescent glints of material so beautiful, oceanic and sublime that stained glass has stood at the heart of what is transcendent and numinous in Western civilization for over 1,000 years.
Knowledge of the history and practice of this art is fundamental to understanding color, light, and space.
Working with glass will be transformative in your development and personal vision as an artist and essential to understanding the question of beauty in Western religion and philosophy.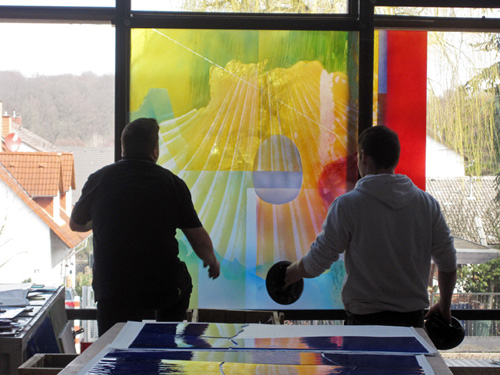 Course Description:
This is a hands-on studio art course in stained glass. Augustana students have the unique opportunity to travel to Germany to create stained glass works of art at the world-renowned Derix Glasstudios. No other North American college or university has had this opportunity before.
Students participate in on-site field research and creative projects, focusing on architectural art glass and design.
Topics of study include glass, art, aesthetics and the sacred. The first part of the course involves preliminary research and design work on campus.
During the second half of the course in Germany, students will learn to create their own stained glass panels at one of the most prestigious glass studios in the world.
Highlights include visits to two UNESCO World Heritage sites in France and Germany: Strasbourg - Grande île and the Cologne Cathedral.
Coursework combines studio practices with selected readings, lectures, demonstrations and site visits to museums, galleries, artists' studios, cathedrals and other glass sites.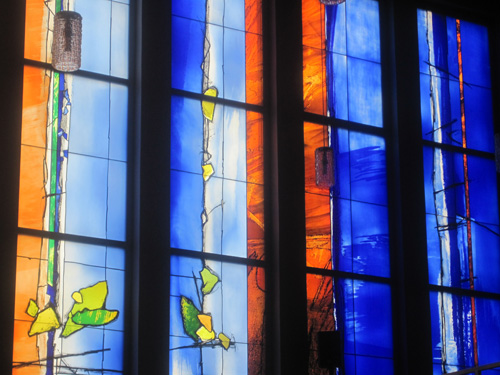 Course Objectives:
The purpose of this course is to provide a set of intrinsic experiences in stained glass art.
At the end of this course, you will be able to:
Pursue commissioned work in public art, architectural art glass and ecclesiastical art.
Incorporate a number of art glass techniques into your own studio practice including: silver-stain, vitreous enamels, lead came, etching, airbrush, screenprinting, lamination and slump molding.
Comprehend your own point in time on a continuum of human experience.
Cultivate a passion for seeing.
Discuss the development of stained glass techniques and iconography in European art history from the Middle Ages to the present.
Relate the role of light in Gothic architecture to the ideal of beauty in Thomas Aquinas.
Understand the visible world through the elements of art and principles of visual design.
Identify the differences between symbolic, representational and abstract form and meaning.
Realize a basis for all future study of art and its relationship to human consciousness and the sacred.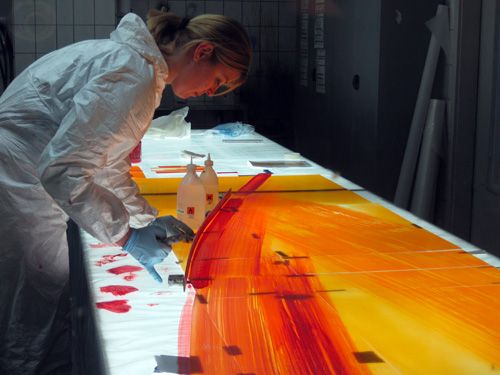 ITINERARY

Week 1: Augustana Campus
Stained Glass - history and practices
Design development
Visits to Gloria Dei, University of St. Thomas More, and Willet Hauser.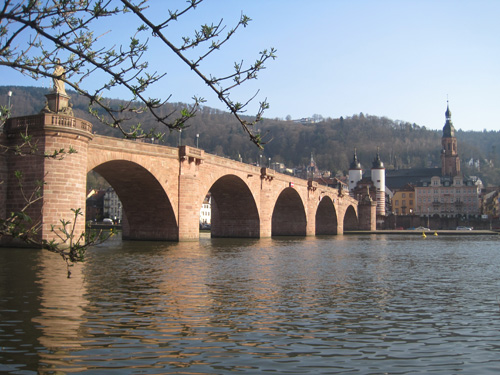 Week 2: France and Germany
Grunewald Altarpiece, Colmar; Cathédrale Notre-Dame-de-Strasbourg
Derix Projects: Cologne Cathedral, (Gerhard Richter—south wall, the most significant and widely-recognized recent glass art installation in the world, 11,500 panes in 2007); St. Andreas Church, Cologne (Prof. Dr. Markus Lüpertz); Nikolai Church, Kalkar (Karl Martin Hartmann—an amazingly detailed project of approximately 1,600 pieces per every 10 square feet)
Derix Glasstudios: Design development
Glashütte Lamberts, cylinder glass-making techniques developed in the 11th century in Germany.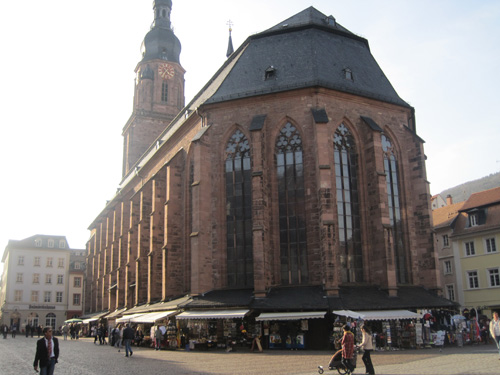 Week 3: Germany
Metz or Heidelberg
Artist studio visits
Derix Glasstudios: Samples
Derix Glasstudios: Production glass panels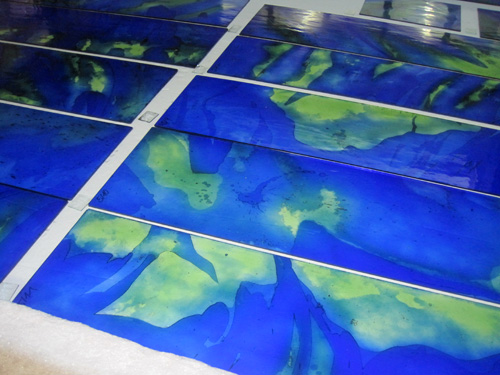 Your grade will be calculated as follows:
Art Fundamentals: Theory and Practice by Otto Ocvirk, Abrams, New York, 2009
Keeping a Rendezvous by John Berger, Vintage, New York, 1992
The Aesthetics of Thomas Aquinas by Umberto Eco, Harvard University Press, 1988
Journals must make five specific references quoting the above readings to receive credit.
Design a full-scale cartoon at Augustana and create a one-meter square stained glass panel during our stay at the Derix Glasstudio in Taunusstein, Germany. Work will be evaluated by the formal elements of art and principles of design. Glass panels will be shipped back to Augustana.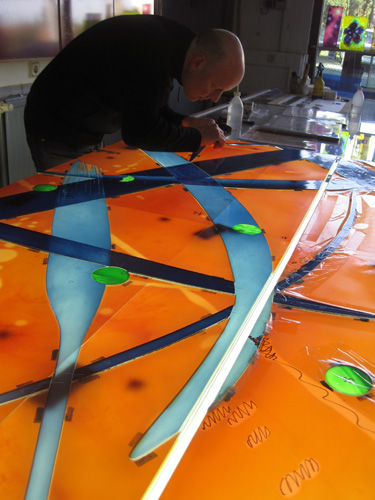 Moleskine Athina City Notebook, or a similarly-sized journal. No lines is preferred.
Produce a descriptive, contemplative, and well-structured image/word-based field journal of European visual culture and experience, to be due at the end of the course. You will be evaluated on your capacity to formally synthesize and evaluate your experience in France and Germany. The primary form of this journal will combine image collection, creation, reproduction, and narrative texts to produce a document of personal significance and recordation of your experience while in France and Germany. You will be asked to create, compose, editorialize, articulate and assess your understanding and experience of European stained glass and art history. This will involve both creative writing and field sketching for all participants. Research topics may be assigned.
An engaged "presence" (beyond mere attendance), completing all required readings and active participation in all guided visits, studio demonstrations and discussions, both formal and informal. One hundred percent attendance is required for events described on the itinerary.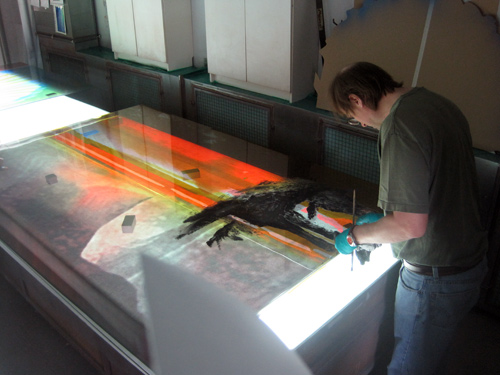 Faculty Background:
Scott Parsons has worked in the field of public art for 19 years. He has received numerous commissions across the United States and Canada. His work includes percent for art and private commissions for churches, museums, research facilities, university buildings and transportation centers. Parsons was recognized by Art in America for creating one of the most significant works of public art in the United States in 2002. He has received other national and international awards for his art, including the National Terrazzo and Mosaic Association Honor Award. His work is reviewed widely, including in Art in America, Sculpture, Architectural Record, and Public Art Review. He has exhibited at the South Dakota Art Museum, the Dahl Arts Center, the Nicolaysen Art Museum, and the Museum of Fine Arts in Santa Fe, N.M..
Parsons also worked with Derix Glasstudios in Taunusstein, Germany to produce a major ecclesiastical glass commission for Gloria Dei Lutheran Church in Sioux Falls. This project includes 24 glass panels involving traditional silver-stain and vitreous enamels. Photos here.

Foreign Language Requirements:
None. Course content presented in English or English translation provided.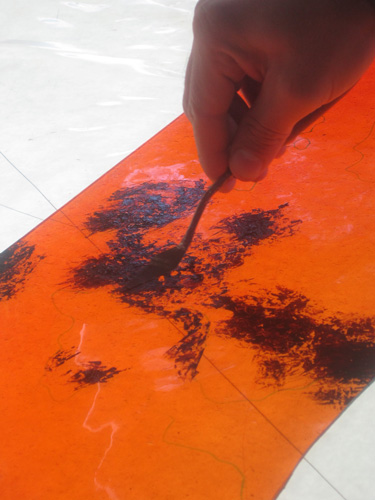 Prerequisites:
ART 101 or ART 120; or consent of professor.
ART 140 and ART 160 highly recommended.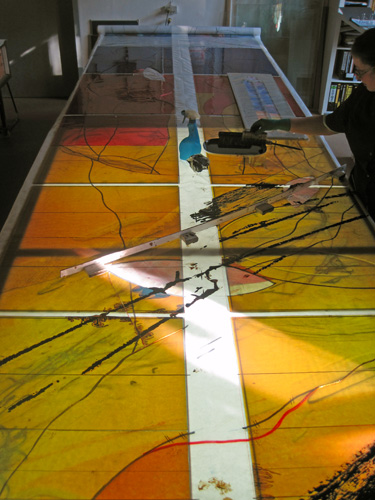 Price:
$5500 all inclusive* (including food and study abroad fees)
* Subject to potential changes in airfare or airport taxes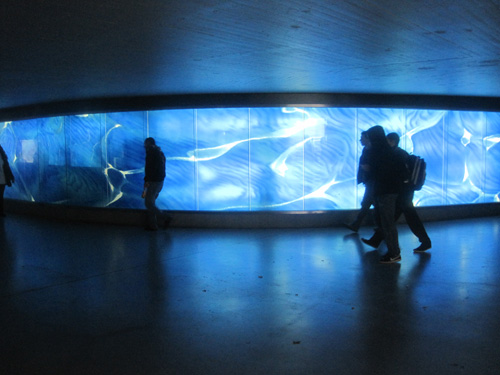 Application Deadline:
September 15, 2011
Course capacity: Seven students
Deposit $500
Passport Application (can take two months or longer)