ATP Clinical Education Program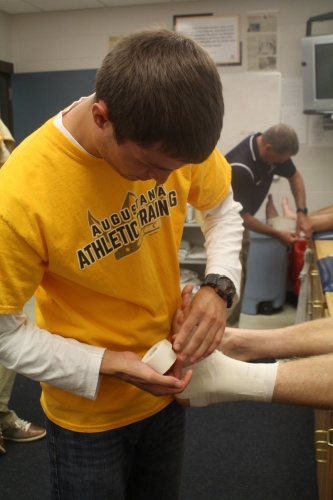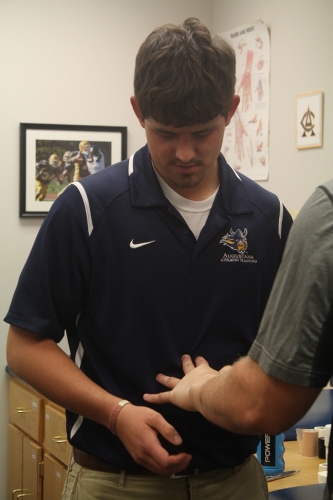 The athletic training program (ATP) of Augustana University is two to three year sequenced didactic (classroom) and clinical education program. Our program fosters the progression of the NATA Educational Competencies Proficiencies (5th edition). Our athletic training program provides the athletic training student (ATS) with an outstanding sequenced synthesis of their cognitive learning and psychomotor skill development over a two or three year period of time.
Clinical Education Plan
The Clinical Education Plan is a document which identifies the clinical proficiencies required of our ATP for each level of the ATS psychomotor development. This document is used as a template to guide the Clincial Preceptors (CPs) and the ATS with the progression of their clinical knowledge and skills while participating in their required rotations/experiences. The clinical educational proficiencies listed on the Clinical Education Plan are directly correlated with the didactic educational competencies taught within our curriculum. The intent is to provide the ideal educational environment in which the ATS is taught the scientific principles of the educational competencies in a formal didactic classroom setting and then to be allowed to demonstrate and synthesize their cognitive, psychomotor and affective learning in a supervised clinical experience.
Affiliated Clinical Education Sites
Our clinical education program provides opportunities for students to gain clinical experiences associated with a variety of different populations including genders, varying levels of risk, protective equipment and general medical conditions that address the continuum of care that prepare the student to function in a variety of employment settings for a Certified Athletic Trainer. Our program utilizes numerous clinical sites to enhance the ATS clinical education development. These clinical sites include: Augustana University, Sioux Falls Roosevelt High School, Sioux Falls Lincoln HIgh School, Sioux Falls Christian High School, Sanford Power Center, Van DeMark Orthopedic Building and Sanford Family Practice Physicians South.
Clinical Education Supervision
A Clincal Preceptor (CP) supervises the (ATS) during their clinical education experiences. CP(s) must provide direct visual and auditory supervision to the ATS at all times during their clinical experiences. Each CP is assigned a minimum of 1-2 ATS and a maximum of 6-8 ATS to supervise during a clinical rotation. This ratio is required to ensure consistent physical interaction and effective educational development. At no time is an ATS not directly supervised by a CP or asked to provide athletic training services without the direct supervision of a CP.
Clinical Education Progression
ATS receive academic credit for their clinical experiences. The academic clinical experience courses serve as the courses in which the ATS receives academic credit for their clinical experiences. Academic credit is required for all the clinical experiences which the ATS participate in for both the fall and spring semesters through each year of our clinical education program. Each ATS is assigned to a CP for a 3-4 week clinical rotation experience for both the fall and spring semesters of their level one and level two training. The Level 3 ATS are required to participate in one clinical immersion experience per semester to foster their learning over time progression. Learning over time is the documented continuous process of skill acquisition, progression and student reflection which involves the demonstration of systematic progression through the cognitive, psychomotor and affective taxonomies within different contextual environments.
Level One
| | |
| --- | --- |
| Academic Course | Clinical Experience Site |
| Fall Semester | Augustana University / High Schools |
| Spring Semester | Augustana University / High Schools |
Level Two
| | |
| --- | --- |
| Academic Course | Clinical Experience Site |
| Fall Semester | Augustana University / Van Demark Orthopedic Building |
| Spring Semester | Augustana University / Sanford Fieldhouse (PT) |
Level Three
| | |
| --- | --- |
| Academic Course | Clinical Experience Site |
| Fall Semester | Sanford Family Medicine Clinic |
| Fall Semester | Augustana University |
| Spring Semester | Augustana University |
Elective Clinical Education Internships
ATS are allowed to participate in elective clinical education internships. These may include internships with our team physicians, chiropractors, physical therapy clinics, local semi-professional sports teams and human performance programs.