Recent News

For all MDFL news, we invite current and future students, alumni and friends of the department to like our free Facebook Page.

Discover what special events, films, student research presentations and guest speakers we're sponsoring by visiting our Celebration of Cultures series calendar.
Five Augie Students Inducted into French Honor Society
Wednesday, March 9, 2016
During a banquet held at Grille 26 in Sioux Falls, five Augustana University students were inducted into Pi Delta Phi, the National French Honor Society for college and university undergraduate and graduate students in the United States.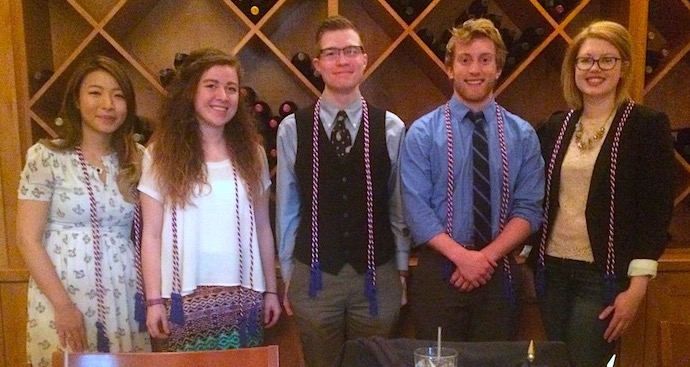 From left-to-right: Ella Ng Kai Ni, Amber Ellis, Donovan Fravel, Connor Auch, Carolina Beck
Pi Delta Pi, established in 1906 at the University of California, Berkeley, is the highest academic honor awarded to students studying French. The purpose of the Society is to recognize outstanding scholarship in the French language and Francophone literatures, to increase the knowledge and appreciation of Americans for the cultural contributions of the French-speaking world, and to stimulate and to encourage French and Francophone cultural activities. The Society has more than 375 chapters and 75,000 members in the United States. Augustana University's Mu Alpha chapter, established in 1997, is the only chapter in South Dakota. The faculty advisor is Dr. Scott Fish.