2010 News
German Club Members Attend German Christmas Service
Sunday, December 12, 2010
| | |
| --- | --- |
| Members of Augie's Der Deutsch-Klub attended the 38th annual German Christmas Service held at First Lutheran Church in Sioux Falls. German Christmas carols--translations provided--were part of the service, and Pastor Randy Nelson delivered the sermon in German. The club's faculty advisor is Dr. Stephan Lhotzky. | |
German National Honor Society Holds Banquet
Friday, November 5, 2010
Augustana College's Eta Delta Chapter of Delta Phi Alpha, the German National Honor Society, held a fall banquet at the Fellows Presidential Residence on November 5. Current members Kylie Dummer, Alex George, Heidi Rittenhouse, Nick Seliski and Stefan Szwarc attended. The meal included (photo right) "Hühnchenfilet in Kräuterrahmsoße mit hausgemachten schwäbischen Spätzle" (pictured below). Current members of the Society also attended. Eta Delta's Faculty Advisor is Dr. Stephan Lhotzky.
Homecoming 2010
Saturday, October 9, 2010
Members Augie's French, German and Spanish clubs participated in this year's Homecoming parade. Club members helped to decorate Prof. Sam Ogdie's vintage cars, and later handed out candy to children along the parade route.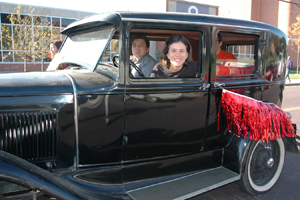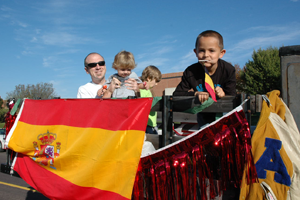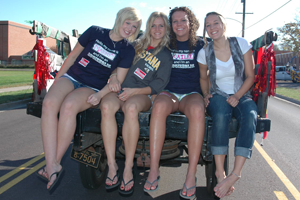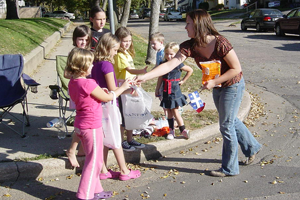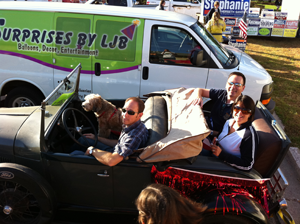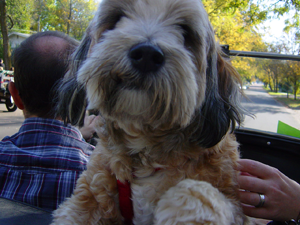 French Major Receives Sophomore Honors
Friday, July 2, 2010
Chelsey Viger, along with three other students, will receive Augustana College's Sophomore Honors Award on September 8 during the Opening Convocation for the 2010-11 academic year. Viger, who is the daughter of Patty Nikkila and Shane Viger, is majoring in French and psychology.

The Sophomore Honors Award recognizes students who have demonstrated outstanding achievement at an early stage of their college career. These honors are conferred on four representatives of the preceding sophomore class, who have been selected by the faculty on the basis of scholarship, character, personal traits, and other evidences of achievement.


Chelsey Viger at the Sainte-Chapelle in Paris.
Six Inducted into French National Honor Society
Thursday, May 13, 2010
Six students of French were inducted into Augustana College's Mu Alpha Chapter of Pi Delta Phi, the French National Honor Society, at the spring induction ceremony. Clara Fisher, Megan Hasche, Tyler Maybe, Karissa Pepin, Jacinta Sutphin, and Kirsten Wollman were recognized for the excellence and achievement in the French language, and Francophone cultures and literatures. Current members of the Society also attended. The program included a research presentation by senior Kelsey Ott, who following a video of Michèle Lalonde presenting her poem "Speak White," delivered a close-reading and analysis. A banquet at Spezia's restaurant to honor the new members and graduating senior French majors was held later in the evening. Mu Alpha's Faculty Advisor is Dr. Scott Fish.


2010 initiates of the Mu Alpha Chapter of Pi Delta Phi.
Nine Earn Department Honors
Monday, May 10, 2010
| | |
| --- | --- |
| Nine Augustana College students were awarded Department Honors during an Awards Ceremony held on May 10: Samuel Eisele, Andrew Erickson, Clara Fisher, Melanie Henry, Chris Johnson, Stacy LaVoy, Zachary Morris, Jacinta Sutphin, Michael Swanson. MDFL faculty members Dr. Stephan Lhotzky, Dr. Scott Fish and Prof. Elizabeth Herman acknowledged recipients for high overall and foreign Language grade point averages, and for the superior quality of their senior research projects. This is the first year that the Department of Modern Foreign Languages has bestowed Department Honors. | Students and faculty at the first Department Honors reception. |
Two Inducted into German National Honor Society
Saturday, May 1, 2010
Two students of German were inducted into Augustana College's Eta Delta Chapter of Delta Phi Alpha, the German National Honor Society, at the annual ceremony and banquet. Alexander Buffie and Jacinta Sutphin were recognized for the excellence and achievement in the German language, and in Germanic cultures and literatures. Current members of the Society also attended. The program included senior research projects by Clara Fisher, Melanie Henry, Zachary Morris, and Michael Swanson. A banquet honoring the new members and graduating seniors followed the program. Eta Delta's Faculty Advisor is Dr. Stephan Lhotzky.


New Delta Phi Alpha members Alexander Buffie and Jacinta Sutphin
Language Majors Present Research at Augie Symposium
Saturday, April 17, 2010
Several Augustana College language majors presented their research and/or senior projects at this year's Student Symposium.
French major Megan Hasche presented "Le Surveillant d'absurité; une analyse des contes de Gaëtan Brulotte"
French major Chris Johnson presented "Delicatessen de Jeunet et Caro; Les échos inconscients de Vichy sortis d'un enfer filmique intemporel"
German majors Michael Swanson and Melanie Henry presented "Nursing Goes to Potsdam."
MFL major Jacinta Sutphin presented "That I May Find You on the Far Horizon (An analysis of binary spatial oppositions in Chocolat by Claire Denis.)
German Club Visits the Freeman Schmeckfest
Saturday, March 27, 2010
Members of the Deutschklub had dinner at the annual Schmeckfest in Freeman, S.D. on March 27. Schmeckfest is a celebration of traditional Mennonite-German food prepared and served by volunteers from the Freeman community. Proceeds from the event are used to support the Freeman Academy.

Schmeckfest is an annual celebration of the ethnic foods, crafts and traditions of the Germans-from-Russia Mennonites who settled in what was to become the Freeman, South Dakota community in 1870s The first Schmeckfest was held in 1959; Schmeckfest 2010 marked the 52nd annual festival.


(back row, from left): Dr. Arlen Viste, Dena Richarz, Stefan Szwarc, Katherine Foiles, Tyler Maybee, Mandy Wong, Lydia Ng, German Instructor Monica Lhotzky; (center): Michael Swanson, Kylie Dummer, Jessica Haugo, Rachel Treloar, Valery Scott, Victor Yip; (front): Marshall Goodge
MDFL Alumna Publishes Spanish Textbook
Monday, March 2, 2010
Augustana College Alumna Dr. Astrid A. Billat, who is currently Associate Professor of Foreign Languages and Literatures at Meredith College in Raleigh, North Carolina, is the author of a new textbook, Three Centuries of Spanish Short Stories, published by Focus Publishing.

Three Centuries of Spanish Short Stories is a Spanish language anthology of stories written by both internationally known and lesser-known authors. There are seventeen short stories, selected to introduce students to the different literary trends of 19th, 20th and 21st century Spain. The stories are supplemented by a brief biography of each author, and a bibliography of his or her work. Each chapter includes vocabulary, written and oral comprehension activities and guides to interpreting the plot and of each story and understanding the symbolism of the text. It also includes creative writing activities after each short story.

"I chose these particular short stories for my textbook because, first of all, their level of difficulty and length is appropriate for a 300 level student of Spanish," Billat said. "Moreover, not only do these stories teach students about modern Spanish literature, strengthen their reading, writing and speaking skills in Spanish, but they also invite them to critically and creatively think about a number of issues that we, as human beings, face every day."

Dr. Astrid A. Billat




Dr. Billat's book.

The publisher notes "The readings inspire students to think critically and creatively about given topics, styles and cultural aspects of the times. Themes include: immigration, hardship of children and adolescents, women's roles, fantastic fiction, disabilities and love."

Dr. Billat received her B.A. from Augustana College; a M.A. from the University of New Mexico, and a Ph.D. from the University of Michigan at Ann Arbor. She teaches courses in Spanish at Meredith College and is the coordinator of the French and Spanish licensure.
Spanish-Nursing Major Lends Helping Hand in Ecuador
Monday, March 1, 2010
Reprinted with permission of the author.
If you were to ask Abbie Hunhoff what she did over mid-term break her answer might surprise you. While many students were enjoying the break from classes, the Augustana College junior nursing major and Yankton High School graduate was spending two weeks in Ecuador, working in a hospital and orphanage — and at the same time, possibly discovering a career path beyond nursing.

"I went with six other nursing majors from Augustana along with our nursing advisor Vickie Reiff," Hunhoff said. "There are small groups that go on trips every year, depending on what the professors plan. ... I was talking to my professor and she was talking about this trip, and I said I would be very interested in going if they went during my senior year. She kind of looked at me and said, 'You are a Spanish major, too right?' So she pulled some strings and Augustana let me do a pilot program this year."

Read more of the article.

Abbie Hunhoff in Ecuador
German-Nursing Majors Take Part in Nursing Practicum in Potsdam, Germany
Thursday, February 11, 2010
During the 2010 January Interim, German and Nursing majors Melanie Henry and Michael Swanson completed a four-week course organized by the Brandenburgisches Bildungswerk für Medizin und Soziales e.V. (BBW), the Brandenburg Education Institute for Medicine and Social Work. Both students fully benefited from the BBW's close cooperation with health and social institutions in Berlin and the State of Brandenburg.

Melanie Henry, who was in Germany for the first time, spoke enthusiastically about the program, "Very important changes in regard to health care are about to happen in the United States. It is all the more interesting to examine the experiences of other countries." Michael Swanson added, "Hopefully, I will be back in Germany next year in order to work in Landstuhl, at the US-Army Hospital there. Potsdam is an excellent preparation for that."

The students' schedule included:

Classes and a tour of a rural health care facility in Belzig, including emergency services
Visit and exchange of ideas at various BBW health care/nursing teaching facilities
Visit and tour of the municipal Ernst von Bergmann Hospital in Potsdam and the Neuruppin hospital
Familiarization with the different forms of assisted living in Germany
Introduction to the Support Center for hearing and language impaired children (in Potsdam-Schlaatz) with course visits within the framework of full-time care (including German sign language)
Visiting the Berlin Accident Trauma Center, including the specialized Hospital for Emergency Medicine and Care at the highest level
A focus study of a senior citizen care facility in Berlin, including a discussion about the system of senior care and assistance
Study of an integrative day care

Michael Swanson and Melanie Henry in Potsdam

Christoph Ritscher (Brandenburg School for Medical and Social Work; BBW), Michael Swanson, Mädy Ramelow (BBW)
Jann Jakobs (Lord Mayor), Melanie Henry, Wolfram Gay (Potsdam Housing Association), Antje Schneider (Potsdam Assisted Living Association)

A special experience for the two students included work in the Potsdam Soup Kitchen on January 22, when Melanie and Michael assisted the kitchen's staff. Melanie and Michael also participated in a cultural program that familiarized them with the city of Potsdam, including a visit the Sanssouci Palace.

Professor Pamela Schroeder, who was in charge of the students' program, praised the varied program. "It is important for our students to get practical experience. The sister-cities relationship between Potsdam and Sioux Falls was a good opportunity to have a course in Germany." Jann Jakobs (Lord Mayor of Potsdam) welcomed the students and their professor within the context of a press conference in Potsdam's French Quarter. Michael and Melanie were housed in a guest apartment of the Potsdam Apartment Association 1956 in that part of the city. The contact with the Apartment Association was made by Mädy Ramelow and Christoph Ritscher of the BBW. "After all, we are neighbors in Zeppelin Street," and Wolfram Gay adds, "We are very happy to contribute in this way to the sister-cities relationship between Potsdam and Sioux Falls."
Mardi Gras Bead Sale to Support Akilah Project in Rwanda
Monday, February 15, 2010
Members Le Cercle Français, Augie's French club, will be selling Mardi Gras beads in the Morrison Commons on Monday and Tuesday, February 15 and 16, with proceeds going to Project Akilah, a new leadership school in Rwanda.

Three strands of beads, one each in purple, gold, and green, will be sold for $1.

Monique Schmidt, class of 1998, is the program director for The Akilah Institute, a vocational training and leadership institute for a diverse group of motivated young women located in Bugesera, Rwanda.

Akilah was founded by Elizabeth Dearborn Davis and Dave Hughes. Its mission is to empower young Rwandan women with the knowledge and skills to find meaningful employment in a rapidly developing Rwanda to lift themselves and their families out of poverty.

Schmidt grew up in South Dakota. She majored in French and Communications at Augustana, was a charter member of Augie's chapter of Pi Delta Phi, the National French Honor Society, and graduated magna cum laude. She served two years in the Peace Corps in Benin, West Africa, then returned to the United States and earned a master's degree in creative writing at Syracuse University.

She has taught in universities in the United States and abroad and spent several years volunteering as a poetry professor in prisons and directing community service programs in the West Indies and the Blackfeet Indian Reservations for Visions Service Adventures.

In 2005, Schmidt received Augustana's Horizon Award, an honor given to young alumni who have quickly excelled in their career, who exemplify Augustana's five fundamental values, and are involved in their community and/or church. Because she speaks French proficiently, she was the first Peace Corps volunteer in Glazoue, Benin.

Her first book about Africa, Last Moon Dancing, was published in 2005. For 2007-2008 she was awarded a Fulbright to teach at the University of Lomé in Togo, and to conduct women's empowerment workshops in high schools.




Monique Schmidt





Akilah students





Monique Schmidt and Elizabeth Dearborn Davis Akilah Co-Founder and CEO