2014 News
MDFL Faculty Selected to Participate in Advanced Placement Reading Programs
Friday, June 20, 2014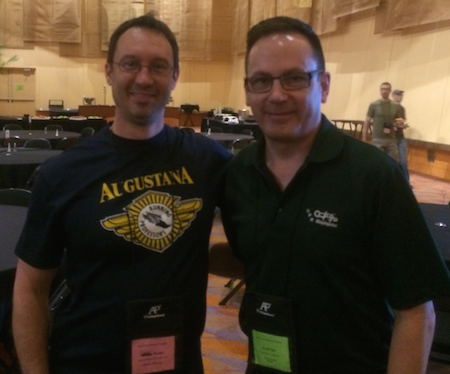 Dr. Scott Fish, Associate Professor (French) and Dr. Michael Rueter, Assistant Professor (Spanish) in the Department of Modern Foreign Languages were again selected to participate in the College Board's Annual Advanced Placement (AP) Reading in French and Spanish in Cincinnati Ohio. Each June, AP teachers and college faculty members from around the world gather in the United States to evaluate and score the free-response sections of the AP Exams. During the June 2014 scoring sessions, more than 12,500 AP Readers evaluate more than 4.2 million AP Exams.
AP Readers are high school and college educators who represent many of the world's leading academic institutions. The AP Reading is a unique forum in which an academic dialogue between educators is both fostered and encouraged. "The Reading draws upon the talents of some of the finest teachers and professors that the world has to offer," said Trevor Packer, Senior Vice President, AP and Instruction at the College Board. "It fosters professionalism, allows for the exchange of ideas, and strengthens the commitment to students and to teaching. We are very grateful for the contributions of talented educators like Drs. Fish and Rueter."
The Advanced Placement Program® (AP®) enables willing and academically prepared students to pursue college-level studies – with the opportunity to earn college credit, advanced placement or both – while still in high school. Through AP courses in 34 subjects, each culminating in a rigorous exam, students learn to analyze complex problems, construct solid arguments, and see many sides of an issue – skills that prepare them for college and beyond. Research indicates that students who score a 3 or higher on an AP Exam typically experience greater academic success in college and are more likely to earn a college degree than non-AP students.
Nine Inducted into French National Honor Society
Wednesday, May 14, 2014
Nine Augustana College students were inducted into the Mu Alpha chapter Pi Delta Phi, the French National Honor Society of college and university undergraduate and graduate students: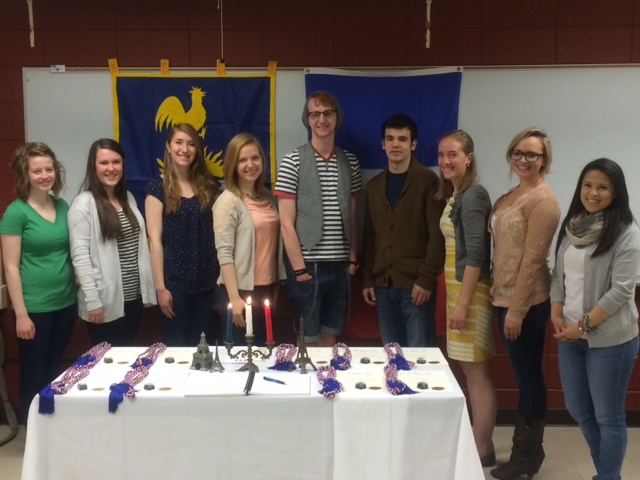 Claire Frost
Bailey Ketelsen
Monica Llaguno
Karl Lund
Austin Mielke
Melissa Soe
September Symens
Alexis Vana
Bianca Wilbur
Pi Delta Pi, established in 1906 at the University of California, Berkeley, is the oldest national academic society for a foreign language in the United States and currently has more that 375 chapters and 75,000 members. The purpose of the Society is to recognize outstanding scholarship in the French language and Francophone literature, to increase the knowledge and appreciation of Americans for the cultural contributions of the French-speaking world, and to stimulate and to encourage French and Francophone cultural activities. Augustana's Mu Alpha chapter was established in 1997 and is the only chapter of the Society in South Dakota. The faculty advisor is Dr. Scott Fish.
MDFL Students Present Research
Saturday, Apr. 12, 2014
Language majors will present their research at this year's Augustana College Symposium on Saturday April 12, 2014, which takes place from 12:00-4:00 P.M. in the Madsen Center.
Marit Lhotzky, "Die Manessische Liederhandschrift"
Research Director: Dr. Stephan Lhotzky
Austin Mielke, "Denglisch: gefährlich oder einfach normal?"
Research Director: Dr. Stephan Lhotzky
Further information and presentation times are available on the Symposium page.