Outreach / Science Day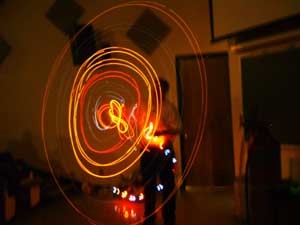 The physics department participates in outreach activities to promote science.  One of the most important is the annual Augustana Science Day.  Both physics faculty and students participate in the sessions, demonstrations, and activities.  Come see us make flames dance and things go boom!  All in the name of science, of course.   
Drs. Alton and Wells are happy to talk to groups about physics topics.  Dr. Alton has recently spoken with physics students in Harrisburg and Sioux Falls Washington and Roosevelt about the experiments that will be conducted at the Deep Underground Science and Engineering Laboratory (DUSEL/Sanford Lab/Homestake Mine).  If you would like Dr. Alton or Dr. Wells to speak at your school, please contact us.
In addition, Dr Alton has participated in the Davis-Bachall Scholars program the last two years at Homestake.