The 2016 High School Invitational Art Exhibition
---
The Eide/Dalrymple Gallery and the Art Department of Augustana University invite regional high-school art students to participate in the Augustana High School Invitational.
Exhibitors will be selected by their high school teacher, with the exhibition awards juried by members of the Augustana art faculty. Up to $500 of art supplies will be awarded in prizes. Additionally, high school seniors can participate in a portfolio review with Augustana art faculty, with the chance to be awarded a $2,000 Pro Artis Scholarship. Up to five scholarships, renewable for four years, will be awarded to exemplary students who are offered admission and choose to attend Augustana University. 
---
Show Dates: January 15 - February 5, 2016
Gallery Reception & Awards Presentation: 5-9 p.m. Friday, Feb. 5
Key Dates and Deadlines:
Wednesday, Jan. 6: Teachers email artwork information for each artwork to be submitted. Teachers should email high-quality jpgs of submitted artwork for possible inclusion in press releases, posters, promotional materials to:  lindsay.twa@augie.edu.
Friday, Jan.8 (or earlier) by 5 p.m.: Student artwork delivered, ready to be displayed, to Eide/Dalrymple Gallery — all artwork must be clearly labeled; parental release forms due with art delivery.
Exhibition on View: January 15 - February 5, 2016.
Tuesday, Feb. 2:  Application deadline for students interested in Augustana arts scholarships.
Friday, Feb. 5 Closing Events:
3:00-5:00 p.m.: Pro artis scholarship portfolio reviews — students apply and sign up in advance. Contact lindsay.twa@augie.edu for more information.
5:00 p.m.: Dinner for exhibiting students, their teachers and parents in the atrium of the Center for Visual Arts.
5:30-7:00 p.m.: Open-studios, workshop demonstrations, portfolio reviews (any student interested in a personal review of their portfolio can signup for a time slot: contact lindsay.twa@augie.edu by Monday, Feb. 1).
7:00-8:30 p.m.: Eide/Dalrymple Gallery Reception.
7:30 p.m.: Awards Ceremony: first, second and third place exhibition awards of art supplies will be bestowed.
8:30 p.m.: Students and/or teachers may take home their artwork.
---
Eligibility: Each high school art teacher is invited to submit up to three student artworks. These works may be in any media. All work completed after Jan. 1, 2015, is eligible.
Presentation: There are no size restrictions, but all two-dimensional work must be ready to hang. Works on canvas must have a hanging wire on back. 2D works on paper should be matted: the gallery will affix Velcro to hang it to the wall, so please ensure that there is a secured backing board or that the mat is at least 2" wider than the artwork's paper. 3D work must be stable and able to stand on a pedestal (provided by the gallery). If there are any special presentation needs, please provide detailed instructions, and consult Dr. Lindsay Twa, gallery director (605.274.4010) in advance.  Anywork not ready to be displayed will not be accepted and shown.
---
Important Dates and Details
Teacher Entry Form (one form per teacher) and Student Artwork and Release Form (one form per student): These must be emailed to Lindsay.twa@augie.edu by Wednesday, Jan. 6, 2016, prior to the delivery of the artwork.
Artwork Delivery:  All artwork must be properly labeled and delivered to the Eide/Dalrymple Gallery in the Center for Visual Arts (30th St. & Grange Ave), Augustana University, Sioux Falls, South Dakota,  57197, by 5 p.m. Friday, Jan. 8, 2016. Artwork may be delivered earlier, any time during regular gallery hours: Monday - Friday, 10 a.m. - 5 p.m.; Saturdays, 1 p.m. - 4 p.m.
Artwork Return:  Art teachers or an official school representative should pick up work at the end of the Gallery closing reception, 8:30 p.m., Friday, Feb, 5, 2016. If unable to collect the work on this evening, arrangements must be made as soon as possible following the close of the exhibition on Friday, Feb. 5, 2016, to pick up the work during regular gallery hours.
---
Pro Artis Scholarship Awards
Your students are also invited to participate in Augustana's Performing and Visual Arts Scholarship events. Augustana Pro Artis Scholarships of up to $2,000, renewable for up to four years, are awarded to incoming students who have been offered admission to Augustana by February 2, 2016, and have submitted a Performing and Visual Art Scholarship Application Form. Candidates will participate in a portfolio review and interview with members of the Augustana Art Faculty, on Friday, Feb. 5; after submitting the above materials to Augustana, please email lindsay.twa@augie.edu to schedule your portfolio review time.
---
The Gallery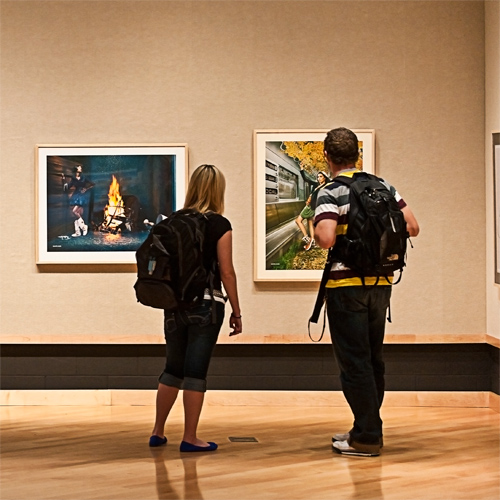 As a part of Augustana, the mission of the Eide/Dalrymple Gallery is to contribute to the educational and cultural vitality of the University, the surrounding community, and the state of South Dakota. The Eide/Dalrymple Gallery inspires the artists of today and tomorrow, and serves as a resource for teaching and promoting life-long learning through its permanent collection and temporary exhibition program with accompanying artist visits, gallery talks, and educational materials.
As Augustana's primary art display space, the Eide/Dalrymple Gallery hosts an average of nine exhibits per year, including Augustana's senior art show. The gallery also exhibits the work of professional artists, who discuss their careers and art with students in master classes and with the general public during opening receptions.