The 2016 High School Invitational Art Exhibition
Show Dates: January 7 - 22, 2016
Gallery Reception and Awards Presentation:
5-9 p.m. on Friday, Jan. 22, 2016
Key Dates and Reception Schedule:
Opening Reception and schedule: Friday, January 22, 5-9 p.m.
Location: Eide/Dalrymple Gallery & Center for Visual Arts  (corner of 30th St. & Grange avenue, free parking in lot and on street, Commons Drive)
5 p.m.: Dinner in the atrium for students, their parents and teachers.  Following dinner, students and their families are invited to explore the art department studios where faculty and Augustana students will be leading demonstrations and hands-on workshops. Students can elect to wander the studios and observe, or sit in on full 45-minute sessions in ceramics, painting, printmaking, figure drawing, and graphic design.
5:30 - 6:15 p.m.: Session 1 of open studio tours and demonstrations*
6:15 - 7 p.m.: Session 2 of open studio tours and demonstrations*
7 - 8 p.m.: Session 3 of open studio tours and demonstrations or individual portfolio reviews with art faculty (sign up for 15 minute sessions).
8 p.m.: Gallery reception
8:15 p.m.: Awards announcements in the Eide/Dalrymple Gallery. Juried by members of the Augustana Art Department, we will be making awards of gift certificates for art supplies and up to three grand prize awards of $2000 Augustana Pro Artis scholarships.  Exhibits close following the reception and artists depart with their work(s).
The Gallery: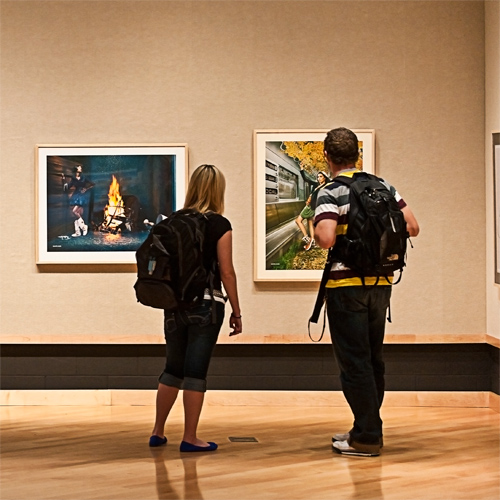 As a part of Augustana College, the mission of the Eide/Dalrymple Gallery is to contribute to the educational and cultural vitality of the College, the surrounding community, and the state of South Dakota. The Eide/Dalrymple Gallery inspires the artists of today and tomorrow, and serves as a resource for teaching and promoting life-long learning through its permanent collection and temporary exhibition program with accompanying artist visits, gallery talks, and educational materials.
As Augustana's primary art display space, the Eide/Dalrymple Gallery hosts an average of nine exhibits per year, including Augustana's senior art show. The gallery also exhibits the work of professional artists, who discuss their careers and art with students in master classes and with the general public during opening receptions.