2017 Summer Music Camp
Augustana's Summer Music Camp is June 5-10 and led by Dr. Lisa Grevlos, director, and Dr. Christopher Unger, assistant director, along with professors from the Augustana Department of Music.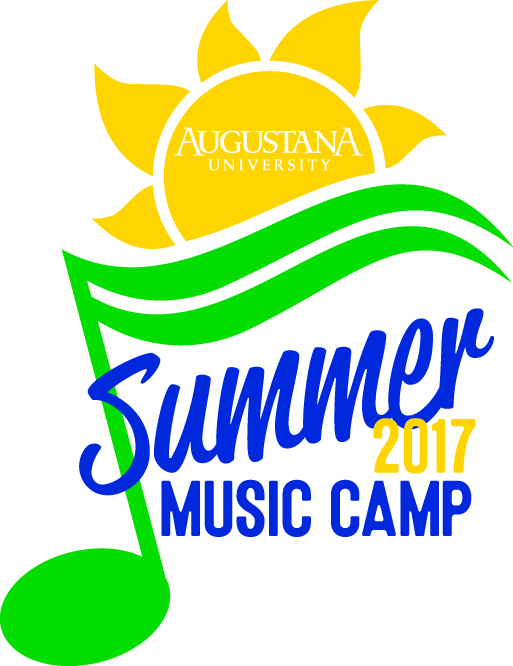 Music Camp T-shirts
Extra Music Camp T-shirts will be available for $10 at the 1 p.m. Saturday concert (in limited sizes and quantities) at the Chapel.
Order a Music Camp DVD of Saturday's performance. The deadline is extended through Wednesday, June 14.
Small Ensemble Recital
7 - 8 p.m. Friday, June 9, in Kresge Recital Hall
Featuring:
Intermediate Piano
Intermediate Guitar
Percussion Ensemble
Woodwind Choir
Vocal Jazz I
Vocal Jazz II
Jazz Ensemble
 
Grand Finale Concert
1 - 2:30 p.m. Saturday, June 10, in the Chapel of Reconciliation
Featuring:
Orchestra
Academy String Trio
Choir
Academy Opera
Band
Academy Brass Quintet
Combined ensembles
---
When you join your friends (both old and ones you'll soon make) at the Augustana Summer Music Camp, you'll find the finest in musical instruction, performance opportunities and fun for six days. Make one of our Residence Halls your home for the week, enjoy dining in our Morrison Commons, swim in our pool, dance in our hallways, dabble with an instrument you've always wanted to play, learn how to shine in an audition, and make beautiful music while creating lasting memories!
Who can attend?
Students entering grades 7-12.
What will be offered?
Large ensembles:  Band, Choir, Orchestra
Small ensembles:  Jazz Band, Jazz Choir, Opera Theatre Academy, Brass Choir Academy, Percussion, Piano Trio
Enrichment ensembles:  Beginning/Intermediate Piano - Beginning/Intermediate Guitar
Enrichment courses:  Music Theory I, II; Music History I, II,; Music Technology I, II, III
Private voice and instrumental lessons
Are there Augustana students involved in the camp, too?
Absolutely! We have the best students in the world at Augustana, and many of them spend this week of their summer on campus to work with our campers and the Summer Music Program. They'll serve as your counselors, mentors, and friends. In fact, it's not unusual for campers and Augie students to make life-long friendships through their experiences together at camp, and we expect that to continue!
What would my days be like at Summer Music Camp?
You will certainly stay busy! The camp is designed to keep you moving all day long, meeting new friends, rehearsing with one another, spending time with our amazing faculty, and yes, having some fun that has nothing to do with music! Our college student counselors will develop games, swimming and other recreation opportunities in addition to movies, popcorn, ice cream and more. You will not get bored; we can assure of you that.
Monday, June 5
1:00-4:30 p.m.: Placement auditions and registration
4:30 p.m.: Camp welcome and orientation
5:00 p.m.: Dinner
6:30 p.m.: First ensemble rehearsals
9:00 p.m.: Activities
11:00 p.m.: Lights out
Tuesday - Friday, June 6 - 9
8:00 a.m.-5:00 p.m.: Rehearsals, classes, and lessons (and lunch!)
5:00 p.m.: Dinner
6:30 p.m.:  Recreation, programs, recitals, and social activities
11:00 p.m.: Lights out
Saturday, June 10
9:00 a.m.- noon: Rehearsals
1:00 p.m.: Final concert at the Augustana Chapel of Reconciliation
What does it cost to go to the Summer Music Camp?
Our camp fees are very competitive. In fact, you might have a hard time finding a summer camp in music that provides this kind of experience at our low, low rate!
Resident Campers: $470  (after April 30: $495) 
Look for special savings opportunities on the registration page!
Commuter Campers: $370  (after April 30:  $395)
Fees include all instruction, activities and more. Resident Campers have a full meal plan and room with linens included. Commuter Campers have an evening meal on Monday, noon and evening meals Tuesday through Friday, and a noon meal on Saturday before the final concert included.
One set of two 25-minute private lessons is included. An additional set of lessons is available for $40 each, and these can be on a different instrument if you like.
Contact for Further Information
If you have any additional questions or comments concerning the Augustana Summer Music Camp, please contact:
Dr. Lisa Grevlos, Camp Director,  lisa.grevlos@augie.edu   605.274.5457
Dr. Christopher Unger, Assistant Camp Director, christopher.unger@augie.edu    605.274.5234
or Brad Heegel, Administrative Director of the Performing and Visual Arts, brad.heegel@augie.edu, 605.274.5508