Band Conductor
Dr. Paul R. Schilf (pictured above)
Dr. Paul R. Schilf is in his 13th year at Augustana College in Sioux Falls, South Dakota. During the sabbatical leave of Dr. Bruce Amman, Dr. Schilf conducted The Augustana Band and has been appointed to do so for the 2013-14 academic year as well.  During prior years, he conducted the College & Community Concert Band, The Northlander's Jazz Ensemble, the Jazz Lab Band, and the Augustana Brass Choir. Additionally, he teaches classes in brass pedagogy, music education and supervises the instrumental student teachers. Prior to his appointment at Augustana College, Dr. Schilf was on the faculty at Concordia University in St. Paul, MN.
Dr. Schilf holds the Bachelor of Music Education Degree from Concordia University, Chicago, IL, also the Master of Arts Degree, with an emphasis in conducting, the Doctorate of Philosophy Degree in Music Education both from the University of Iowa. Schilf has taught all levels of instrumental music.
Dr. Schilf's research interests lie in intergenerational instrumental music education and in the supervision of instrumental music student teachers. He has presented clinics and presentations across the United States on these very topics including the prestigious International Mid-West Band and Orchestra Clinic. Dr. Schilf has led six international tours with intergenerational ensembles and has conducted these ensembles across Europe and Asia. His intergenerational research, student teaching supervision information, and music education articles have appeared in prominent national magazines and journals.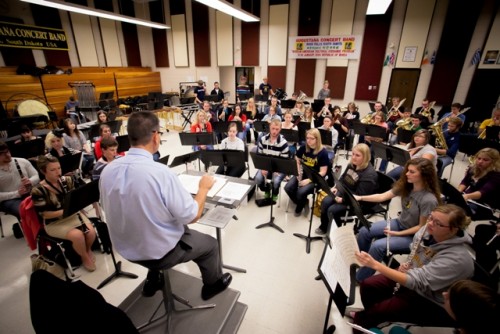 In November of 1992 Dr. Schilf was recognized as an Outstanding Nationally Certified teacher of music by the Music Educator's National Conference. An honor he maintains yet today. He is currently Executive Director of the South Dakota Music Educators Association and serves as one of only four All-State Band Adjudicators in South Dakota. His professional memberships include the National Association of Music Education (NAfME), South Dakota Bandmasters Association (SDBA), and The Wisconsin School Music Association (WSMA).