Christmas at Augustana
Join us for these Augustana Christmas events:
Christmas Vespers: December 4-6
As part of Christmas at Augustana, Augustana Performing and Visual Arts presents Christmas Vespers 2015, a celebration of the birth of Christ featuring Augustana's four choirs and the orchestra, Dec. 4-6, at Our Savior's Lutheran Church.
Tickets are $17 for adults, $12 for seniors (65+), and $10 for students K-12 and Augie students with an ID. Buy Tickets

A special performance of the complete Augustana Christmas Vespers will be held at 7:30 p.m. on Friday, Dec. 18, at St. Andrew's Lutheran Church, Mahtomedi, Minnesota.
All tickets are $20 and are available at www.augietickets.com or by calling the Augustana Box Office at 605.274.5320. Learn more.
Performances dates and times are:
7 p.m. Friday, Dec. 4
3 p.m. and 7 p.m. Saturday, Dec. 5
3 p.m. Sunday, Dec. 6
Dr. Paul Nesheim directs The Augustana Choir and Chamber Choir. The orchestra is led by Dr. Jungho Kim, and Dr. Lisa Grevlos and Dr. Russell Svenningsen direct Angelus and the Collegiate Chorale.
Our Savior's Lutheran Church is located at 909 W. 33rd St. in Sioux Falls.
Christmas Instrumental Concert: December 10
As part of Christmas at Augustana, the Augustana Performing and Visual Arts presents the Augustana Christmas Instrumental Concert featuring nearly 200 instrumentalists including the Augustana Brass Choir, the Augustana Band, and the Augustana College & Community Band at 7:30 p.m. on Thursday, Dec. 10, at the Washington Pavilion in historic downtown Sioux Falls.
Tickets range in price from $15-$20 and are free for students K-12 and those with a valid Augie ID. Tickets are available at the Washington Pavilion. All seats are reserved. Buy Tickets

With coordination by Service and Learning Together (SALT), Teen Town gifts and gifts for children of all ages and adults (for Children's Home Society, Children's Inn, the Heartland House and the Union Gospel Mission) will be accepted beginning Tuesday, Nov. 24.

Teen Town gifts should be brought to the Campus Safety desk inside Morrison Commons; gifts for children of all ages and adults can be deposited beneath the Christmas "Giving Trees" inside the academic buildings, residence halls and the Chapel of Reconciliation by Wednesday, Dec. 16.
The performance will include renditions of sacred and secular Christmas tunes, a traditional holiday "sing-along" and lots of surprises.
Visit Day is Friday, Dec. 4
We invite prospective students and their parents to tour Augustana the morning of Friday, Dec. 4, with the opportunity to meet some of our great professors, learn about scholarship opportunities, and enjoy campus dining. We also have a limited number of complimentary tickets available for one of our favorite traditions, Christmas Vespers.
Please register online or call 605.274.5516 to join us.
Christmas Ornaments for Your Tree
The Friends of Augustana are pleased to offer a variety of Christmas tree ornaments available for purchase. Proceeds support student scholarships. Along with the 2013 Santa Ole ornament, other ornaments for purchase include: 2012's game-face Ole ornament, 2011's Christmas poinsettia, the Sesquicentennial logo, 2009's pewter Christmas tree, and the Old Main pewter medallion that made its debut in 2004. Ornaments are $10 each. Order online.
Gift Ideas from the Center for Western Studies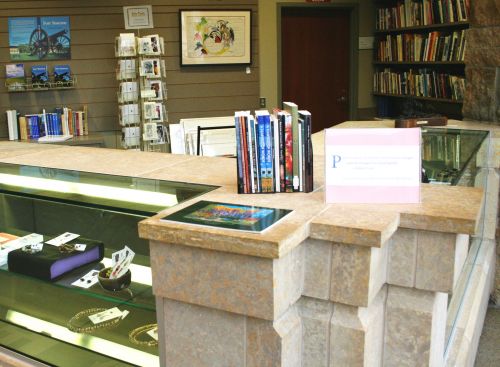 Looking for a special gift this holiday season? Come see the unique offerings by local artists in the CWS Gift Shop, a selection of which you can view in this Facebook album, as well as other jewelry, holiday cards, books and art prints.
25% off all items (including art, jewelry, pottery, books) through Tuesday, Dec. 22. No coupons, no limitations.
Stop by Monday-Friday, 8 a.m - 5 p.m., or call 605.274.4007 to inquire about specific pieces.
 
'Ugly' Apparel for the Holidays
The ugly Christmas sweater isn't just for hipsters anymore. Celebrate your holidays in style with an Ugly Holiday Sweatershirt from the Augustana Bookstore.
The campus store is open Monday-Thursday — 9 a.m. - 5 p.m. and Friday — 9 a.m. - 4:30 p.m.
Holiday Hours of Operation
Saturday, Dec. 12: 11 a.m. - 4 p.m.
Sunday, Dec. 13: Closed
Monday, Dec. 14 - Thursday, Dec. 17: 9 a.m. - 5 p.m.
*Rental textbooks due Thursday, December 17*
Friday, Dec. 18: 9 a.m. - 4 p.m.
Saturday, Dec. 19 & Sunday, Dec. 20: Closed
Monday, Dec. 21 & Tuesday, Dec. 22: 10 a.m. - 3 p.m.
Wednesday, Dec. 23 - Sunday, Dec. 27: Closed
AmazonSmile
You shop and Augustana receives a donation! As a member of the AmazonSmile Charitable Program, Augustana receives 0.5% of the price of your eligible AmazonSmile purchases. Enjoy shopping even more with the knowledge that every dollar you spend on eligible products will benefit Augustana students.
How? Visit the AmazonSmile website. Go shopping! Augustana does not receive a list of shoppers who support the university in this way.