Faith Fest 2010: "Healing Hunger, Breaking Bread"
 Faith Fest Rocked!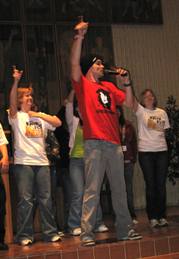 Faith Fest 2010 featured musicians David Scherer (Agapé) and Rachel Kurtz throughout the event. They had the whole crowd on their feet and moving at the opening worship and at the concert. 
These two Minnesotans performed at the ELCA Youth Gathering in New Orleans in July 2009. They came to Faith Fest as a part of "Jesus, Justice, Jazz: The Tour," a series of concerts nationwide that raised money for world hunger. The concert on Saturday evening was open to the Augustana and Sioux Falls community as well as to Faith Fest participants.  Faith Fest raised $500 for ELCA World Hunger. 
Agapé (Dave Scherer) has inspired youth from Brooklyn to Bosnia with his relational ministry, "Hip Hop Outreach." He combines dancing, rapping, and storytelling in his edgy, relevant presentation of the Gospel.
Rachel Kurtz is a singer and songwriter whose distinctive voice infuses her organic instrumentation. Her subtle blend of folk rock gets inside of people, calls them friend, and lets them know they are not alone.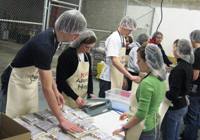 On Saturday afternoon, each Faith Fest participant spent several hours at the Kids Against Hunger Sioux Falls packing site. They packed 15,608 packages of the specially formulated rice-soy casserole that will be delivered to starving children and their families in the United States and in Haiti, enough to feed 36 people for a year.  Many, many thanks to the West Minnehaha Chapter of Thrivent Financial for Lutherans for funding the food packing service project.
"Healing Hunger, Breaking Bread" sought to raise awareness about world hunger—both physical and spiritual. Faith Fest activities highlighted the causes and the impacts of hunger in the world and gave area youth opportunities to care for their neighbors in response.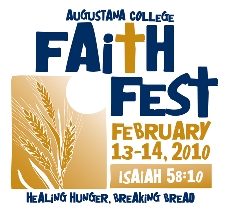 Faith Fest 2010 began at 12:45 p.m. on Saturday, February 13, a bit later than in prior years, and planned activities went later into the night, culminating with a midnight breakfast and worship at the Elmen Center. A communion service on Sunday morning capped the event.  Senior Augustana students Beth Singleton and Miranda Andersen delivered the sermon for the morning.
Breakout sessions provided a chance to interact with Augustana faculty. Youth and their adult leaders joined Augustana small group leaders for Bible studies, a volleyball tournament, and a resource scarcity game. 
All discussions were grounded in the Faith Fest theme from Isaiah 58:10, "If you pour yourself out for the hungry and satisfy the desire of the afflicted, then shall your light rise in the darkness and your gloom be as the noonday."
Related files