International Theme Programming
"Islam in our Community, Past and Present" is our International Theme
Designed to increase students' understanding of global issues, Augustana introduced the International Theme during the 2009-10 academic year by studying and supporting issues related to Guatemala. For the 2010-11 year, amid the College's sesquicentennial, the theme was Norway. For the 2011-12 year, the theme was World Hunger and Poverty. And for the 2012-13 year, the theme was China and Globalization.
"Sioux Falls, starting in the late 1800's and extending through the 1930's, had a vibrant group of residents from Islamic countries arriving in this area," said Sam Ogdie, instructor of Spanish and Augustana's Co-Curriculum Theme Year Coordinator. "Since the 1930's other Islamic groups have sporadically joined our community. Their influence has contributed greatly to what Sioux Falls is today. Our goal is to introduce our campus and Sioux Falls to the area's Islamic community, past and present. Local community speakers, campus experts, students, movies and reading groups will inform us about our Islamic history, culture and religion."
"Islam in our Community, Past and Present" Programming
Throughout the year, visiting speakers will give presentations on their experiences with Islam and Muslims as part of Augustana's International Theme for the 2013-14 academic year, "Islam in Our Community, Past and Present." The International Theme speakers are sponsored by the Co-Curricular Council.
Upcoming speaker:
 

From 7-8:30 p.m. on Thursday, Feb. 13, in Humanities Rm. 301, Dr. Joseph Dondelinger will give a talk titled, "Idolatry and Iconoclasm: Historic Mecca Vanishes."
It's a topic on Islam, not in this region, but should be of interest to Muslims and non-Muslims everywhere.
 
Past speakers:
On Thursday, Dec. 12, Paul L. Whitney gave a talk titled: "Syrian-Lebanese Culture in the Dakotas," that centered on the cultural elements that make the Syrian-Lebanese experience most unique to the prairies. There was a special emphasis on family stories of Christian, Muslim and Druze immigrants to the Dakotas. Historical, economic and geographical forces are a core part of what shaped the Lebanese immigrants and Whitney followed up through the generations of modern times.
Originally from Minneapolis, Minn., Paul Whitney's a co-author of the book, "Prairie Peddlers: The Syrian-Lebanese in North Dakota." His formative years were spent in Crookston, Minn., located in the northwest part of the state, which has a vibrant culture of Lebanese citizens.
On Thursday, Oct. 24, in Gilbert Science Center Rm. 100, Stephen Cusulos will give a talk titled: The "Mohammedans" of Sioux Falls: 1900-1920 from Peddlers to Grocers — along with a few Pool Hall Men. View the presentation preview.

Cusulos worked at the University of Minnesota and co-founded and co-directed the Minnesota Forum (a cross-disciplinary program of lectures, debates, and symposia). Later, he was director of the Katherine Nash Gallery (also at the University of Minnesota).
 
On Thursday, Oct. 17, in Humanities Rm. 301, we heard from Imam Hamzah Abdul-Malik of the Muslims Community Center of South Dakota.

Abdul-Malik is an Azhar graduate in Islamic law with more than 15 years of formal Islamic education and broad experience of Islamic cultures. He has mastered Arabic, memorized the Holy Quran, and served as an education consultant and spiritual guide for Muslim communities nationwide.
In addition to the planned events and activities, Augustana students, faculty and staff are also encouraged to develop additional ways to support the International Theme. "Mini-grants" of up to $500 are available to assist students, faculty and staff in developing and implementing programs in support of "Islam in our Community, Past and Present." There is no deadline to apply; however, early submission is encouraged.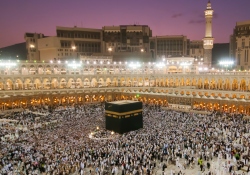 Did you know?
Facts about Islam:
► Islamic followers number
over 1.5 billion
worldwide.
► Along with Judaism and Christianity, Islam is considered to be
one of the three Abrahamic traditions
.
►
Indonesia has the greatest number of Muslims
in a country, with more than 170 million.
Pakistan has the next largest number
, with 136 million.
In left photo:
Muslim pilgrims circumambulate the Kaaba (in Mecca, Saudi Arabia) at dawn.