International Theme Programming
Lakota is our International Theme
Throughout the year, visiting speakers will give presentations on their experiences with Lakota as part of Augustana's International Theme for the 2014-15 academic year. The International Theme speakers are sponsored by the Co-Curricular Council.
Upcoming speakers will be announced this spring.
 
In addition to the planned events and activities, Augustana students, faculty and staff are also encouraged to develop additional ways to support the International Theme. "Mini-grants" of up to $500 are available to assist students, faculty and staff in developing and implementing programs in support of the Lakota theme. There is no deadline to apply; however, early submission is encouraged.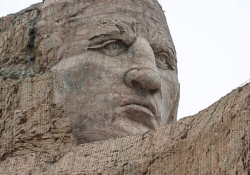 Did you know?
Facts about Lakota:
► "Lakota" and "Dakota" are different pronunciations of the same
tribal name, which means "the allies."
► The original
Lakota homelands
were in what is now Wisconsin, Minnesota, and North Dakota and South Dakota. Today, most Lakota people live in the Dakotas, Minnesota, Nebraska and Saskatchewan.
► Like most Native American tribes,
each Lakota community lives on its own reservation
("reserve," in Canada), which belongs to them and is legally under their control. However, the U.S. and Canadian governments still consider the Lakotas citizens. Each Lakota band has its own government, laws, police, and other services, just like a small country.
In photo:
The
Crazy Horse Memorial
celebrates the Native American war leader of the Oglala Lakota
.