34th Annual Artists of the Plains Art Show & Sale
T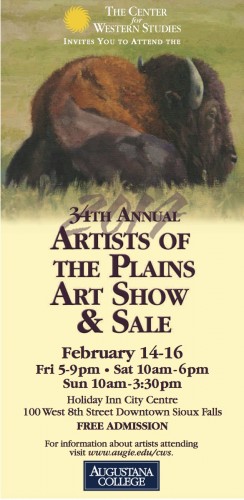 he artwork of 26 local and regional artists were on display Feb. 14-16 at the 34th annual Artists of the Plains Art Show and Sale, sponsored by the Center for Western Studies at Augustana College.
The show was held at the Holiday Inn City Centre, 100 W. 8th St., in downtown Sioux Falls and featured artists representing five states. The event was free and open to the public.
Hours were:
Friday, Feb. 14: 5-9 p.m.(premier showing and reception; awards ceremony will begin at 8 p.m.)
Saturday, Feb. 15: 10 a.m. - 6 p.m.
Sunday, Feb. 16: 10 a.m. - 3:30 p.m.
Bids on selected silent auction pieces were accepted through 2 p.m. on Sunday. Augustana College art students were once again be part of the show. The students showed and sold their artwork, which was on display in the Holiday Inn's Palisades Room.
Artists invited to the Artists of the Plains Art Show and Sale include:
Tara Barney, Sioux Falls, SD
Arnold Bortnem, Sioux Falls, SD
Bryan Bortnem, Rutland, SD
Russ Duerksen, Sioux Falls, SD
Genevieve Echols, Meadow Grove, NE
Jess Elofson, Brandon, SD
Jerry Fogg, Sioux Falls, SD
Marian Henjum, Sioux Falls, SD
David Huebner, Bushnell, SD
Carol Lundeen, Dassel, MN
Donald Montileaux, Rapid City, SD
Martiena Richter, St. Joseph, MO
Gisele Robinson, Evanston, WY
Robert Ruf '07, Sioux Falls, SD
Jennifer Stone, Watertown, SD
Johnny Swatek, Wagner, SD
Megan Sweets, Sioux Falls, SD
Paul, Linda and Brian Szabo, Mission, SD
Ed Thomas, Mission, SD
Sharon Welch, Pierre, SD
Karlys Wells, Clear Lake, SD
Jennifer White, Sioux Falls, SD
Drake Wood, Lennox, SD
Thank you to our generous sponsors! We appreciate your support!!
The Artists of the Plains Art Show & Sale is also supported in part by a Challenge Grant from the National Endowment for the Humanities.
For more information, please call 605.274.4007.