The Boe Forum on Public Affairs
The Center for Western Studies at Augustana College is pleased to welcome the eighteenth Boe Forum on Public Affairs speaker: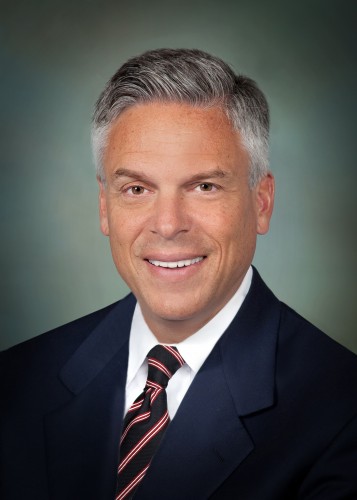 Jon Huntsman, Jr.
Former governor of Utah
2012 presidential candidate
Former U.S. ambassador to China and Singapore
Huntsman will speak on the topic of:
"The Geopolitics of China and the United States"
Monday, November 4, 2013, 7:00 p.m.
Doors open at 6:00 p.m.
Elmen Center, Augustana College
33rd Street and Grange Avenue
605.274.4007
Jon Huntsman's political career includes having served two terms as the governor of Utah. Under his watch, the state received several accolades, including being named the "best managed state" by the Pew Center on the States.
He has also served in several international political roles: he was the Deputy Assistant Secretary of Commerce for Asia, U.S. Trade Ambassador, ambassador to Singapore and most recently, China.
"The relationship between U.S. and China – two of the world's largest superpowers – is one that will define the future. Last year alone, more than $500 billion worth of goods were exchanged between the two countries. As a former U.S. ambassador to China, Gov. Huntsman is uniquely qualified to discuss how that relationship will impact global politics. We are excited to welcome him to campus and to the region," said Dr. Harry Thompson, executive director of the Center for Western Studies. 
Huntsman currently serves on the board of Ford Motor Co., Caterpillar Corp, Huntsman Corp., the U.S. Naval Academy Foundation and the University of Pennsylvania. He also is a distinguished fellow at the Brookings Institute, a trustee of the Carnegie Endowment for International Peace, a trustee of the Reagan Presidential Foundation and chairman of the Huntsman Cancer Foundation.
He holds a bachelor's degree in international politics from the University of Pennsylvania. He graduated from the University of Pennsylvania in 1987, and since then, has garnered seven honorary doctorate degrees.
"Gov. Huntsman has a long history of building strong relationships domestically and abroad. As the world continues to 'grow smaller,' our students and members of the broader community will no doubt be impacted by his perspectives on global engagement," Thompson said.
 
Ticket Information:
 
Admission is free but tickets are required!
Beginning September 4, 2013, tickets may be reserved online at www.augietickets.com, by phone, or in person at the Center for Western Studies or the Augustana Box Office. Priority floor seating for CWS members, general admission floor, and handicap floor seating cannot be processed online at this time.
Ticketing and delivery options include:
Thermal tickets, which can be mailed to the address provided for a $3.50 fee or left at "Will Call" for pick up.*
E-tickets, which can be printed at home using any printer.
Mobile tickets, which will be sent directly to your mobile phone to use at the door. (If you have a smart phone, we recommend using the Walletini App to purchase, download, and store your tickets.)
All tickets will have an individualized bar code/QR code which will be scanned at the door as you enter the event. Tickets cannot be duplicated.
*"Will Call" tickets can be picked up in advance Monday-Friday, 9:00 a.m. to 4:00 p.m., or at "Will Call" in the Elmen Center Lobby beginning at 5:30 p.m. the night of the event. You may pick your tickets up in person at these locations:
The Center for Western Studies
Fantle Building, 2121 S Summit Ave
605.274.4007
The Augustana Box Office
Located in the Morrison Commons
605.274.5320