"Why Are We?" Carl Grupp: A Retrospective Exhibit of a Life Half Finished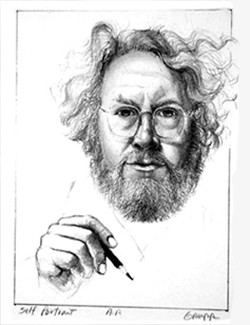 The Eide/Dalrymple Gallery and the Center for Western Studies presents  "Why Are We: Carl Grupp – A Retrospective of a Life Half Finished."
The installment opened on Thursday, Sept.12, and runs through Saturday, Oct. 12, in the Eide/Dalrymple Gallery; works will be on view Thursday, Sept. 12, through Saturday, Dec. 7, in the Center for Western Studies. A gallery reception was Friday, Sept. 13, at the Eide/Dalrymple Gallery (artist's talk was at 7:30 p.m.) with additional viewing at the Center for Western Studies.
Learn More
Listen to Carl Grupp's interview on SDPB's Dakota Midday
The exhibition celebrates the prolific life of Professor Emeritus of Art Carl Grupp, one of South Dakota's preeminent living artists. On view will be 120 works, many of which have never before been displayed.  While including some of Grupp's most iconic works — from large-scale watercolor mountains to surrealist still-lifes — the installment will also feature works that Grupp had heretofore considered "half finished" or too experimental to show. These works most reveal Grupp's development, working methods, and his relentlessly searching mind, which will add to a fuller understanding of this significant artist.
Grupp served on Augustana's faculty from 1969-2004. He received his M.F.A. from Indiana University, Bloomington. He received his B.F.A. from the Minneapolis College of Art and Design. He also did undergraduate study at the School of Associated Arts, in St. Paul, Minn. and at Augustana in Sioux Falls, S.D.
Grupp has participated in more than 100 regional, national, and international art exhibitions since 1961, with dozens of one-man shows.
A 120-page color catalogue accompanies the exhibition and is available for purchase.
This exhibition is supported in part by the South Dakota Arts Council, provided with funds from the State of South Dakota, through the Department of Tourism, and the National Endowment for the Arts.