Native Soul: The Artwork of Jerry Fogg (exhibit held over until June 1st)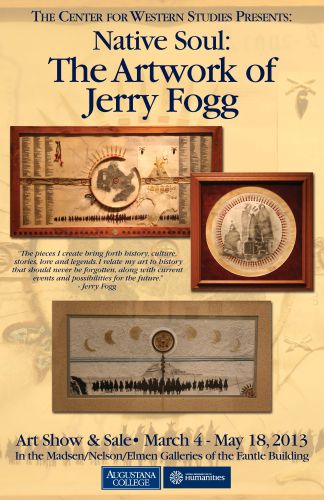 The Center for Western Studies' newest exhibit features works by Native American artist Jerry Fogg. "Native Soul: The Artwork of Jerry Fogg" will be on display from Monday, March 4, through Saturday, June 1 (was May 18). The gallery reception featuring a gallery talk was on Wednesday, March 20.
Yankton Sioux Oyate artist Jerry Fogg, Wanagi Tatanka (Bull Ghost), is a mixed-media, pencil and ink, acrylic and watercolor tribal artist. He is an advocate for Blood Run, Hiawatha Indian Insane Asylum and Pé Sla and a multi-mentor at Hawthorne Elementary in Sioux Falls. Fogg is a graduate of Flandreau Indian School and an enrolled member of Ihankton Nakota Oyate. He is the lead vocalist for the contemporary rock band "Native Soul," and a self-employed business owner in Sioux Falls.
Artist of the Year: Flandreau Indian School
Best of Show (mixed-media): United Tribes Art Expo
Best of Show:Yankton County Open Art Competition
Award Winner (Textile): Northern Plains Tribal Arts
Patron Award: LuVerne, Minnesota Open Arts
People's Choice Award: Artists of the Plains
Best of Show: Artists of the Plains
Nominee for Mayor's Award for the Arts: Sioux Falls