Rotating Exhibits at CWS
The Center has several display cases throughout the galleries that exhibit materials on a variety of changing themes. The current exhibits are:
Works by Jim Savage
Sioux Falls artist and master woodcarver Jim Savage was well known for his authentic depictions of the American West. The cowboy caricatures and Native American busts he created in his backyard studio grabbed the public's interest during the Western art boom of the 1970s. Jim's unique style of using native South Dakota driftwood and fence posts set him apart from the other artists of his time. A selection of Savage's works from the CWS Fine Art Collection are on display in the Elmen Gallery of the Fantle Building, including his award-winning American Horse and White Bull sculptures compiled out of hundreds of natural color wood pieces.
Leaving for War?: Mobilization of the 147th Field Artillery in World War II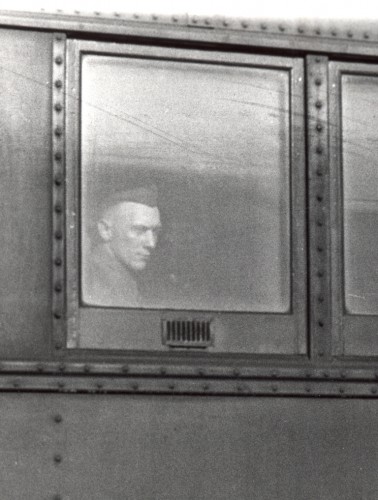 Glenn Soladay was one of 2,263 members of the South Dakota National Guard to serve as Army officers and soldiers during World War II. This exhibit features images of his unit, B Battery of the 147th Field Artillery Regiment, leaving Mitchell, SD, and traveling to Fort Ord, CA, in 1940 for what was to be a year of training. Years later, the soldiers returned home, having fought overseas in Australia, New Guinea, and the Philippines. The images were only recently discovered as undeveloped negatives in Soladay's footlocker in 2008. They are now part of the Glenn E. "Doc" Soladay Collection donated by Elizabeth Soladay to the CWS archives.
Stephen R. and Annie B. (Ackley) Riggs
Stephen R. Riggs was an early Congregational missionary to the Sioux in Minnesota and Dakota Territory. His life has been studied at length, but little has been known about his second marriage to Annie B. Ackley, a teacher who had previously worked at one of Riggs' missions and even taught his children. The Center recently received a new collection of Riggs family papers that includes correspondence from Stephen to Annie. Several of these enlightening letters are now on display.
Native American Quillwork
This display in the Elmen Gallery discusses the extent and process of Native American quillwork. The porcupine quill has been used as a decorative element by many Native American tribes. Individual quills are transformed by a process that includes soaking and dying, preparing them to be sewn to the desired object. Quillwork became less prevalent after the introduction of the glass bead by the Europeans, but it still remained as a decorative art. Examples in the exhibit are from the Blue Cloud Abbey-American Indian Culture Research Center Collection at CWS; additional examples can be found in the Froiland Plains Indian Gallery.
There are exhibits on permanent themes in addition to those listed above.