Augustana Students Included in Washington Pavilion Exhibition
DATES:
Friday, January 16, 2009
-
Sunday, April 19, 2009
LOCATION:
Washington Pavilion, downtown Sioux Falls
EVENT DETAILS: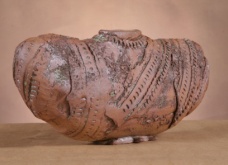 SIOUX FALLS – Seven Augustana student-artists have had artwork accepted for the University Invitational at the Washington Pavilion in downtown Sioux Falls.

Their works will be on exhibit at the Pavilion from January 16 to April 19, 2009. A reception is planned for Friday, January 16, from 5:30 to 7:30 p.m.

The exhibition is open to student-artists from all South Dakota colleges and universities.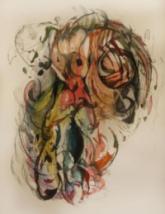 Student-artists representing Augustana are:

Lisa Jarovski, '09, a business administration and art major from Sioux Falls. Her work is a graphic design titled "Text Self Portrait."

Marcella Dowie, '09, an art major from Luverne, Minn. Her ceramic piece is titled "Ancient Vessel." (shown above)

Jess Miller, '09, an art major from Sioux Falls. Her watercolor creation is titled "Rip it Up." (shown right)

Jamie Horter, '09, chemistry and art major from Bristol, S.D. Her digital photography entry is titled "Fallen."

Alexandra Hurney, '09, art major from Brandon, S.D. Her pen and ink work is titled "Printmaking Room."

Rachel McAllister, '09, art major from Cottage Grove, Minn. Her marker on paper piece is titled "In the Huddle."

Kari Newton, '10, art major from Sioux Falls. Her charcoal creation is titled "My Parade of Unicorns."

CONTACT INFO:
Bruce Conley
Director News Information
Phone: 605.274.5526
Fax: 605.274.4903