Lighting the Way -- Autism Spectrum Disorders in our Community
Event Details
---
Date: June 10 - June 11, 2009
Times: 8:30 a.m. to 4:30 p.m.
Location: Gilbert Science Center (33rd St. and Summit Ave.)
Ticket Info: To register, call 605.274.4126 or visit www.augie.edu/autism

Thursday-Friday, June 11-12, 2009
8:30 a.m. to 4:30 p.m.
Gilbert Science Center (33rd St. and Summit Ave.)
June 10 Pre-Conference is $75
June 11-12 Conference Fee is $100
To register, call 605.274.4126 or visit www.augie.edu/autism
Autism is a complex neurobiological disorder that typically lasts throughout a person's lifetime. It is part of a group of disorders known as Autism Spectrum Disorders (ASD). Today, one in one-hundred-fifty individuals is diagnosed with autism and it occurs in all racial, ethnic, and social groups. Autism impairs a person's ability to communicate and relate to others.
Who should attend?
Educators
Parents
Social Workers
Counselors
Therapists
Adult Ser vice Providers
Business and Community Members
Sponsors
Program Breakout Session Strands
Best Practices in Education
Medical Issues
Adolescent/Adult Issues
Both keynoters will also provide breakout sessions
Keynote Speakers: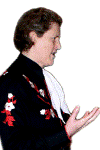 Dr. Temple Grandin is an associate professor at Colorado State University and arguably the most accomplished and well-known adult with 'high functioning' autism in the world. Grandin is also a world renowned professional designer of humane livestock facilities. She is the author of numerous books and speaks to various audiences around the country.
Dr. Grandin's keynote is entitled: My Experience with Autism—Sensory Problems, Visual Thinking and Careers with a breakout session following for questions and answers.
Dr. Grandin and her mother Eustacia Cutler were recently featured in the Detroit Free Press.
Dr. Jim Ball, a Board-Certified Behavior Analyst (BCBA), has been working in the private sector field of autism for 20+ years. In a variety of settings, he has provided educational, employment, and residential ser vices to children and adults affected with autism. Dr. Ball has lectured nationally and internationally, provided expert testimony, and published in the areas of early intervention, behavior, consultation services, social skills, technology, and trauma. A featured author, he is on the advisory board for the Autism Asperger's Digest magazine. His book, "Early Intervention & Autism: Real-Life Questions, Real-Life Answers" was released in February of 2008.
Dr. Ball's keynote is entitled: "RtI and FBAs Perfect Together" and he will offer three breakout sessions.
New this year!
Pre-conference Session, Wednesday, June 10, 8:30 a.m.-4:00 p.m.
Dr. James Ball "Early Identification and Strategies: The Keys to Success for a Child with an Autism Spectrum Disorder."
This workshop will focus on early identification of autism spectrum disorders and assisting families on accessing the Early Intervention System and beginning to work with their child from the moment they receive their diagnosis. An effective Individual Family Service Plan (ISFP), the 7 key strategies to a successful program, building the "dream team" of services, and dealing with problem behaviors will all be explored in detail. Specific teaching strategies will be discussed along with next step to transitioning the child into the public school system. Hands-on activities will be used to illustrate these evidenced-based practices.
Read more about the conference in the Sioux Falls Argus Leader.