Football Clinic for Women Set for August 28
Event Details
---
Date: August 27, 2010
Times: 5:00 p.m. to 9:00 p.m.
Location: Augustana Presidential Residence and Kirkeby-Over Stadium
Ticket Info: Register today using the .pdf form, below.
The Augustana football program will host its fifth annual women's football clinic on Saturday, August 28 from 5:00 p.m. to 9:00 p.m. at the president's house and Kirkeby-Over Stadium. Viking players and coaches will be on hand to instruct interested women in the game of football.
The event will begin at the president's house (located up the hill from Kirkeby-Over Stadium) and move to the stadium shortly thereafter.
Register today.
Register using the .pdf form — a portion of the proceeds will go to the Susan G. Komen For the Cure.
Pre-registration (by Friday, August 20) is $40; Walk-up registration is $50
Price includes hors d'oeuvres, wine tasting, commemorative t-shirt, ticket to a home game of your choice, and a donation to a worthy cause.
Please make checks payable to:
Augustana Football
Attn: Mike Aldrich
2001 Summit Avenue
Sioux Falls, SD 57197
Must be postmarked by August 20th.
Women's Football Clinic Event Schedule

| | |
| --- | --- |
| 5:00 p.m. | Registration and Social — Come to the Augustana College Fellows' Presidential Residence (corner of Grange and 37th Street) to enjoy friends, hors d'oeuvres and wine tasting. Shop for gorgeous jewelry and fashion-forward purses. |
| 6:30 p.m. | "Chalk Talk" at the Hall football complex |
| 7:15 p.m. | "Game Time" drills with the players — remember to wear comfortable clothes to take part in the drills. |
| 7:55 p.m. | Team picture on the field |
| 8:00 p.m. | "Overtime" back at the house — Dig into deserts and more shopping. |
| 8:30 p.m. | Raffle |
| 9:00 p.m. | "Game Over" |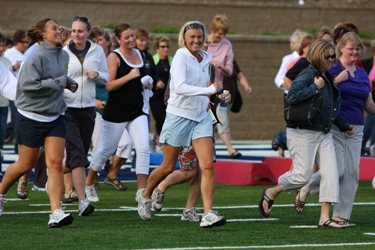 ---
If you have any questions about the event, please contact
Mike Aldrich at 605.274.5538 or mike.aldrich@augie.edu.