Nursing Offers The Anna Haugan Berdahl Lecture Series
Event Details
---
Date: March 31, 2011
Times: 12:45 p.m. to 4:00 p.m.
Location: Augustana's Morrison Commons 3-in-1 Room
Ticket Info: Free and open to the public
The Augustana Department of Nursing invites you to attend The Anna Haugan Berdahl Lecture Series, "Transforming Education: Bridging the Practice-Academic Gap," at 12:45 p.m. to 4:00 p.m. on Friday, April 1, in the Morrison Commons 3-in-1 Room. The keynote speaker will be Pamela Ironside, PhD, RN, FAAN, currently an Associate Professor and Director of the Center for Nursing Education Research at Indiana University's School of Nursing.
Dr. Ironside's research includes multiple funded investigations of the ways new pedagogies influence the practices of thinking in nursing classrooms and clinical courses, the ways students' interactions with faculty and preceptors influence learning during clinical experiences, and the ways in which nursing faculty undertake reform and innovation in their courses. Her work is widely published in research and education journals, monographs, book chapters, and web-based modules.
This lecture series is free to the public. Please RSVP your attendance to Mary Moline, mary.moline@augie.edu by Tuesday, March 29.
Program Schedule
| | |
| --- | --- |
| 12:45 p.m. | Welcome and Introduction |
| 1:00 p.m. | "Transforming Nursing Education: New Pedagogies/New Possibilities," Pamela Ironside, PhD, FAAN, ANEF |
| 2:00 p.m. | "The Effect of Nitrous Oxide in Alleviating Pain and Anxiety During Pediatric Procedures," Augustana Senior Nursing Students (Christina Ahrendt, Brittney Block, Ruth Burgers & Elizabeth Hughes) |
| 2:20 p.m. | "Determining Methods of Pin Site Infection Prevention," Augustana Senior Nursing Students (Katie Edgecomb, Sara Ringel, Jessica Shoemaker & Alexandra Staum) |
| 2:40 p.m. | Break |
| 3:00 p.m. | "Quality and Safety Education for Nurses: Bridging the Practice-Academic Gap," Pamela Ironside, PhD, FAAN, ANEF |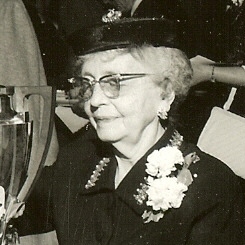 The Anna Haugan Berdahl Lecture Series is named after Anna Haugan Berdahl (1908-80), a pioneer in nursing and nursing education in South Dakota. From 1917 through 1928, her educational pursuits included Swedish Hospital School of Nursing in Minneapolis, St. Olaf College, Augustana College (B.A. degree in 1928), and Columbia University as an Isabel Hampton Robb Scholar. Anna experienced nursing in the military and was a faculty member and administrator at Swedish Hospital, Sioux Falls Lutheran Hospital (now Sioux Valley Hospital), and Augustana College. Throughout her varied career, she was a tireless advocate for the nursing discipline and for nursing education, promoting the evolution of nursing education from an apprentice training model to professional education in colleges and universities. She was president of the South Dakota Nurses' Association and the South Dakota League for Nursing, served as Dean of Women at Augustana, and was a volunteer and instructor for the American Red Cross. Although Anna was a petite woman, tributes from colleagues and friends have addressed her as a "giant" and a "visionary" in her compassion and concern for fellow human beings. In 1983, Berdahl received posthumous recognition from Augustana with the Alumni Achievement Award. Included among The Center for Western Studies' collections of women's personal papers are those of Anna Haugan Berdahl. It is through a bequest from Anna Berdahl's estate that Augustana's Department of Nursing is able to sponsor a lecture series to continue her legacy of support of ongoing development of nursing and practice education.