April 12: Band Concert to Feature Scott Shelsta on Trombone, Dr. Leland Lillehaug as Guest Conductor
Event Details
---
Date: April 11, 2012
Times: 7:30 p.m.
Location: Washington Pavilion
Ticket Info: $12 for adults; $8 for seniors and students K-12 | free for Augustana students and faculty | tickets available at www.washingtonpavilion.org
The Augustana Band's Spring Concert will feature acclaimed trombonist and former U.S. Army Band soloist Scott Shelsta '71, and guest conductor Dr. Leland Lillehaug '51, professor emeritus of music and Augustana's Director of Bands from 1956-1977.
The concert, under the directon of Dr. Bruce Ammann,  will also feature the Augustana College/Community Concert Band, under the direction of Dr. Paul R. Schilf, and will begin at 7:30 p.m. on Thursday, April 12, at the Washington Pavilion.
Tickets are available at the Washington Pavilion box office.
The Augustana Band performance will include the following selections:
"Angels in the Architecture" by Frank Ticheli
"Cello Concerto in B minor" (World Premiere) by Antonín Dvořák, transcribed for trombone and band by Scott Shelsta (Scott Shelsta, trombone soloist)
"Hail to the Spirit of Liberty" by John Philip Sousa, edited by Loras John Schissel, directed by Dr. Leland Lillehaug, guest conductor 
The Augustana College/Community Concert Band performance will include the following selections:
"America Triumphant" by   Keith P. Latey, arranged by Andrew Glover
"Vision of Hope" by Matthew Mauro  
"One With The Wind" by Matt Conaway
About Scott Shelsta
A 1971 Augustana graduate, Shelsta served as trombone soloist for the United States Army Band "Pershing's Own" from 1974- 2004, during which he performed for U.S. Presidents Ford, Carter, Reagan, George H.W. Bush, Clinton and George W. Bush.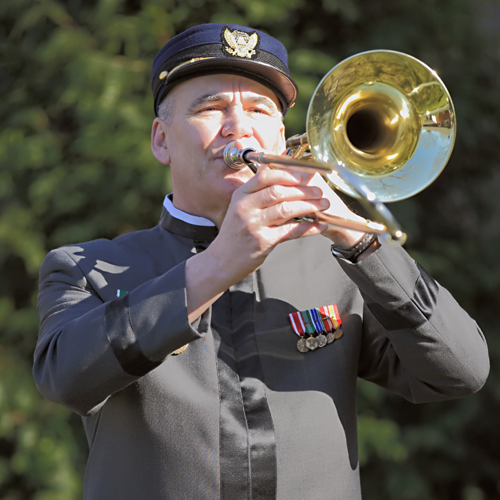 A native of Hayti, S.D., he studied with Tom Ellwein, a former member of the U.S. Marine Band's "The President's Own." After teaching public school instrumental music in Luverne, Minn., Shelsta continued his performance education, earning his Master's Degree in  Brasswind Performance and Pedagogy at the University of Northern Colorado where he studied with the acclaimed master teacher, Edwin "Buddy" Baker. During this time, he toured with the famed Glenn Miller Orchestra.
Shelsta's forte as a trombone artist centers around the turn-of-the-century (1890-1920) style of playing. These types of solos are extremely demanding and seldom heard in public. The artist must obtain a careful balance between strength and flexibility — the age-old problem of brass players everywhere.
Shelsta also plays every genre of music and has a wide range of professional playing experience, from symphonic to jazz. He has been featured as a soloist or clinician at virtually every major educational conference and has toured musically in Australia, Canada, the Caribbean, Japan, Norway, the Netherlands, Sweden and Scotland, and all 50 states. 
Shelsta was chairman of the Eastern Trombone Workshop from 1993 to 2004 and is a member of the International Trombone Association. He was the trombonist with the internationally acclaimed United States Army Band Brass Quintet for 30 years and will celebrate the 40th anniversary of the Quintet as a soloist in concert with the Quintet alumni and the Army Band in June  2012.
About Dr. Leland Lillehaug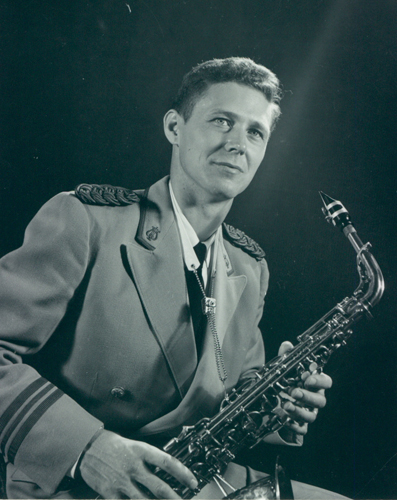 Leland A. Lillehaug, Augustana class of 1951, began his tenure as the second conductor of the Augustana Band in 1956. Lillehaug brought with him an impressive pedigree including a year of study in Vienna, Austria, as a Fulbright Scholar, as well as a three-year stint as band director in Waverly, Iowa.
Lillehaug, who served as Director of Bands until 1977, is credited with developing an exciting and vigorous comprehensive band program at Augustana, including a very popular marching band which played for a Minnesota Vikings football game; an ambitious band festival for outstanding high school band students; an effort to cultivate a plethora of national and internationally known guest conductors, soloists, and clinicians; an expansion of curricular offerings in the instrumental area of the music department; and national tours east, west, and the deep south. Lillehaug, who retired as Director of Bands in 1977, served on the music department faculty until 1991.