Summer Scholar Camp at Augustana
DATES:
Tuesday, June 4, 2013
-
Tuesday, July 30, 2013
TIME(S):
2-4 p.m. on Tuesdays (except not July 2)
LOCATION:
Augustana College's Madsen Center
TICKET INFO:
More information is found at http://summerscholarcamp.com, or contact: scholar.summer@gmail.com or call Matt Christensen at 605.351.6234.
EVENT DETAILS:
Held at Augustana on summer afternoons, Summer Scholar Camp is a new academic academy dedicated to students and their goals empowering high school students — of all ages — with college connections and exposure. Summer Scholars will learn by focusing on relevant and compelling topics, rigorous content, and test/college preparation. We believe, with focused work and encouragement, Summer Scholars can achieve significantly more in college — and gain confidence in their academic ability.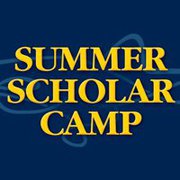 For $200 nonrefundable tuition, scholars will get:
the most recent novel written by the great Yann Martel (author of Life of Pi);
ACT prep exercises;
Experience with Augie's most engaging professors;
College prep advice from Adam Heinitz, Augustana College Director of Admission and judge for Argus Leader Academic All-Stars;
Lessons in math, science, and English to avoid the summer slide in learning.
On Tuesdays (except July 2) from June 4 through July 30, from 2-4 p.m.
To ask Questions or to Enroll as a SUMMER SCHOLAR, contact: scholar.summer@gmail.com or call Matt Christensen at 605.351.6234 by end-of-day May 15 (or as soon thereafter, as possible).
More info can be found at summerscholarcamp.com and facebook.com/acscholar.