Through March 8: Exhibit of Paintings, Pastels by Hinsvark Eide
Event Details
---
Date: February 13 - March 7, 2013
Location: Eide/Dalrymple Gallery
Ticket Info: Free
The Eide/Dalrymple Gallery at Augustana College features the work of alumna Diane J. Hinsvark Eide '58 in its newest exhibition "Fruit – Figures – Flora: Paintings and Pastels by Diane J. Hinsvark Eide." A gallery reception and artist's talk was 5-7 p.m. on Friday, Feb. 15.
"It is not often that an artist is at home equally with abstraction, still life, landscape and the human figure. Rarer still is the artist who can capture each of these subjects expertly in pastels, oil, acrylic and watercolor painting. Diane Hinsvark Eide, however, is no ordinary painter," said Dr. Lindsay Twa, assistant professor of Art and director of the Eide/Dalrymple Gallery. "In this solo exhibition, which brings together works from the 1990s to the present, viewers can experience the richness of Eide's lifelong exploration into classical artistic expression."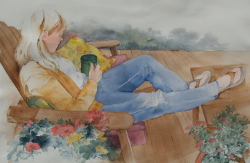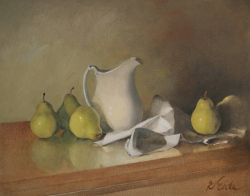 "Her still lifes of arranged fruit evoke a sense of high drama and expressive mood; her landscapes capture the atmospheric personalities of disparate places, from the Southwest's intense light, to rural Norway in winter; and her human figures, caught in moments of quiet repose, all reveal the beauty and infinite variety of returning again and again to art's most classical subject matter," Twa said.
Viewers learned more about the exhibit at the gallery reception from 5-7 p.m. on Friday, Feb. 15. The event featured an artist's talk at 6 p.m.
About Diane Hinsvark Eide
Hinsvark Eide graduated from Augustana in 1958. She continued her graduate studies in painting at the University of Denver and Northern Arizona University, where she earned a Master's degree. Between 1965 and 1996, she also served as an art teacher in the Denver and Flagstaff public schools. She has exhibited widely in Arizona, and was the 2004 featured artist of the Sedona Arts Festival. She is a juried member of the Northern Arizona Water Color Society and the Arizona Arts Alliance. She resides in Flagstaff, Ariz.
Gallery Reception
5-7 p.m., Friday, Feb. 15
The Eide/Dalrymple Gallery is located on Commons Circle (30th Street and Grange Avenue), in the Center for Visual Arts at Augustana College. The gallery is open to the public and free of charge. Hours are Monday through Friday, 10 a.m. to 5 p.m., and Saturday noon to 5 p.m. Closed Sundays.
Images above:
1. Diane Eide, "Norway Farm, Winter," watercolor, 30" x 24", 2009
2. Diane Eide, "Morning Cup of Coffee," watercolor, 26" x 34"
3. Diane Eide, "Pears with White Pitcher," oil, 16 x 20", 2010