Feb. 27: Discussion to Explore Medicaid Expansion
Event Details
---
Date: February 26, 2013
Times: Noon
Location: The Back Alley
Ticket Info: Free and open to the public.
Joy Smolnisky, director of the South Dakota Budget and Policy Project, a nonpartisan advocacy group, will discuss "Medicaid Expansion: a South Dakota Decision" at Noon on Wednesday, Feb. 27, in the Back Alley, located inside Augustana's Morrison Commons. The event is free and open to the public. 
Smolnisky's discussion will address some of the important issue facing the South Dakota Legislature this session, including one of the most significant questions: Do we wish to partner with the federal government to expand our state Medicaid health insurance program or not? Smolnisky will discuss:
Who would, or would not, get health coverage?

What would it cost South Dakota over the short and long term?

How would health care providers, consumers and small businesses in South Dakota be affected?
Her address will also include an overview of how the Federal Affordable Care Act will affect South Dakota, regardless of what the legislature decides regarding Medicaid expansion.
About Joy Smolnisky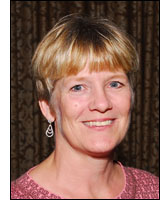 Smolnisky currently serves as director of the South Dakota Budget & Policy Project. She previously held the position of senior policy and program specialist at South Dakota Voices for Children. Before joining Voices, she worked as both an educator and an administrator in the field of medical information administration.
Smolnisky received her Bachelor of Science degree in health information administration from the University of Illinois. She was granted a Master of Arts degree from Augustana College for her studies in biomedical ethics.