April 21: Third Sunday Archeology Presents 'Lost Nation' Documentary
Event Details
---
Date: April 20, 2013
Times: 1 p.m.
Location: Gilbert Science Center Auditorium (GSC #100)
Ticket Info: Free
April's installment of Augustana's Third Sunday Archeology Program will feature the new critically-acclaimed documentaries Lost Nation: The Ioway 2 & 3 from Kelly and Tammy Rundle of Fourth Wall Films at 1 p.m. on Sunday, April 21, at the Gilbert Science Center Auditorium (GSC #100) on the Augustana campus. The special South Dakota Humanities Council (SDHC) event is free to the public. Dr. L. Adrien Hannus, professor of Anthropology & director of the Archeology Lab, provided an on-camera interview for the film and will take part in Q&A after the screenings. Ioway Reuben IronHorse-Kent (pictured, right) of the Iowa Tribe of Kansas and Nebraska will also participate in the program, co-sponsored by Augustana's Anthropology Department.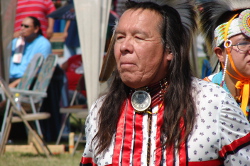 Parts 2&3 of the three-part film series begins where Ioway 1 left off, in 1837 when the Ioway were forcibly removed from their ancestral homeland of Iowa in to a reservation on the border of Nebraska and Northeast Kansas. New Ioway leader White Cloud (The Younger) believed his people must relocate to survive. But intermarriage, broken treaties and the end of communal living led to a split in 1878 and the establishment of a second Ioway tribe in Oklahoma. Both tribes endured hardship and challenges to their traditions and culture to achieve successful land claims and self-determination in the 1970s. Lost Nation: The Ioway 2 & 3 brings the dramatic Ioway story full circle.
Ioway Elders and tribal members join other Native scholars, historians, archaeologists and anthropologists to tell the dramatic and true story of the small tribe that once claimed the territory between the Missouri and Mississippi Rivers from Pipestone, Minnesota to St. Louis. The state of Iowa takes its name from the Ioway Tribe. The Ioway were among other tribes that occupied the site known as Blood Run, located on the border of southeastern South Dakota and northwestern Iowa.
The Lost Nation: The Ioway 2&3 film project and public program was funded in part by a grant from the South Dakota Humanities Council (SDHC) and the National Endowment for the Humanities (NEH). Any views, findings, recommendations or conclusions expressed in these films and program do not necessarily represent those of the SDHC or the NEH.
The SDHC cultivates statewide interest in South Dakota history, literature and other related humanities subjects, while stimulating an interest in the state's place as part of the universal human experience. This programming vision forms the core mission of SDHC "to support and promote the exchange of ideas to foster a thoughtful and engaged society."
The films contain mature themes and historical images that may be disturbing to young children.