Jan. 19: Third Sunday Archeology on "Up the Wadi Without a Paddle"
Event Details
---
Date: January 18, 2014
Times: 2 p.m.
Location: Gilbert Science Center, Room #100, Augustana College
Ticket Info: Free and open to the public.
January's installment of Augustana's Third Sunday Archeology Program will feature Dr. Kimball Banks presenting "Up the Wadi Without a Paddle; The Archeology of Wadi Kubbaniya 30 Years Later" at 2 p.m. on Sunday, Jan. 19, at the Gilbert Science Center Auditorium (GSC #100).
While most art historians and archeologists focus on Pharaonic Egypt, the "Combined Prehistoric Expedition" (CPE) makes major contributions to our understanding of the preceding Paleolithic and Neolithic cultures in Egypt and Sudan. The CPE was founded in 1962 to salvage prehistoric sites from construction of the Aswan High Dam on the Nile River.
Dr. Banks will present the results of archeological work sponsored by the CPE in 2012 at Wadi Kubbaniya, the largest wadi in the western desert of Upper Egypt. The wadi is located north of Aswan. The sequence of archeological sites in the wadi dates from 20,000 to 12,000 years ago and constitutes one of the most complete records for the Late Paleolithic period in Egypt. The sites have yielded evidence of increased sedentism and reliance on plant foods, precursors to the Neolithic agricultural "revolution."
The illustrated lecture is free and open to the public with a question-and-answer session to follow.
This program is funded in part by Augustana College's Mellon Fund Committee, by Augustana's Archeology Laboratory, and by the Sioux Falls Chapter of the South Dakota Archaeological Society.
About the Speaker: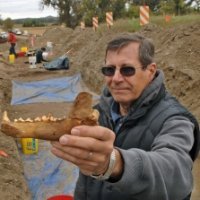 Kimball Banks holds a Ph.D. in anthropology from Southern Methodist University. During his 26 years in federal service he worked as project archeologist for both the Bureau of Indian Affairs and the Bureau of Reclamation, where he also served as Native American Affairs Specialist. He currently works in private sector archeology in Bismarck, North Dakota. Dr. Banks holds an adjunct position in Anthropology at Augustana and is on the Scientific Advisory Board for the Mitchell Prehistoric Indian Village. His research interests include lithic technology, North African prehistory, and Navajo and Plains archeology and ethnohistory. He continues to conduct fieldwork in Egypt and Sudan. He recently co-authored a book on the Smithsonian Institution River Basin Surveys Archeological and Paleontological Salvage Program, which had a major impact on the development of American archeology.
Pictured top right, retrieving a sample from Wadi Kubbaniya.
Pictured bottom right, speaker Dr. Kimball Banks, Regional Manager, Metcalf Archaeological Consultants; Bureau of Reclamation Archaeologist (retired).
Learn more about Augustana's Anthropology program through Jon Michaels' KELO-FM podcast with Director Adrien Hannus on Sioux Falls' 12,000-year archeological recorded history.