May 22-24: Commencement Weekend
Event Details
---
Date: May 21 - May 23, 2014
Location: On Campus
Ticket Info: Learn all the details at www.augie.edu/commencement
Senior Julia Blue will speak on behalf of students and Dr. Gene Hoyme will deliver the commencement address during Augustana's 2014 Commencement, set for Saturday, May 24, at the Elmen Center. Following is a complete schedule of events for the weekend, including details for the live webcast.
---
Thursday, May 22
"A Suite Farewell" — President Oliver's Party for the Senior Class
6 - 8 p.m., Kirkeby-Over Stadium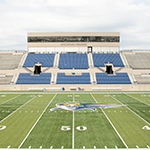 Nearly 200 members of the Class of 2014 joined President Rob and Angie Oliver at Kirkeby-Over Stadium for a "suite" farewell as a celebration of their Augustana experience. The evening began with a class photo on the field, followed by food and fun in the President's Suite. This event was exclusively for graduating seniors and was free of charge.
---
Friday, May 23
Live Web Stream Broadcast
Watch Commencement live online beginning at 2 p.m. Central on May 24.
Commencement Rehearsal *
10 a.m.
Elmen Center, 2505 S. Grange Ave.
Rehearsal attendance is required. All candidates for graduation must either be present or have a stand-in for rehearsal.
---
Reception for Civitas Graduates
1 p.m.
Center for Western Studies, 2121 S. Summit Ave.
The Civitas Honors Program serves as reception host for its graduates, their families, and their friends. Refreshments will be served.
---
Nurse Pinning Ceremony
4 p.m.
Our Savior's Lutheran Church, 909 W. 33rd Street
Reception to follow.
---
Senior Celebration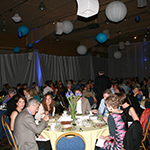 6:30 p.m.
Hilton Garden Inn Downtown, 201 E. 8th Street
SOLD OUT!

Featuring dinner, entertainment, and The Last Lecture, presented by Augustana Student Association Faculty Award Winner Dr. Jeffrey Miller, this special evening offers students, parents, faculty, and staff the opportunity to gather and celebrate the legacy of the class together.

As of Monday, May 12, this event is sold out.
---
Saturday, May 24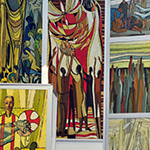 Baccalaureate
10 a.m.
Elmen Center, 2505 S. Grange Ave.
Seniors, family members and faculty/staff are invited to join us for Baccalaureate, a festive worship service accompanied by The Augustana Band and The Augustana Choir. Graduates should arrive by 9:15 a.m. to robe and line up. Caps and gowns should be worn. No tickets required.

Rev. Dr. Paul Rohde, campus pastor, will deliver the message. Prayers will be written and led by the 2014 Covenant Award recipients.
---
Brunch
11 a.m.
Ordal Dining Room, Morrison Commons
Cost (includes tax) is $13 per person; $7.50 for children 12 and under. Tickets are required and will be sold at the door, as well.
NOTE: This meal is included for Augustana students participating in the 2013-14 meal plan; tickets for these students are not required.
---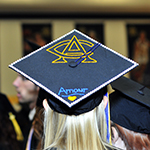 Commencement*
2 p.m.
Elmen Center, 2505 S. Grange Ave.
Doors open for seating at 1 p.m. Graduates should arrive by 1:15 p.m. to robe and line up. Wear caps and gowns.
Dr. Gene Hoyme '72 of Sanford Health will give the Commencement Address.
Tickets are required.*
 
Can't make it to campus for the ceremony? Watch it live online beginning at 2 p.m.
---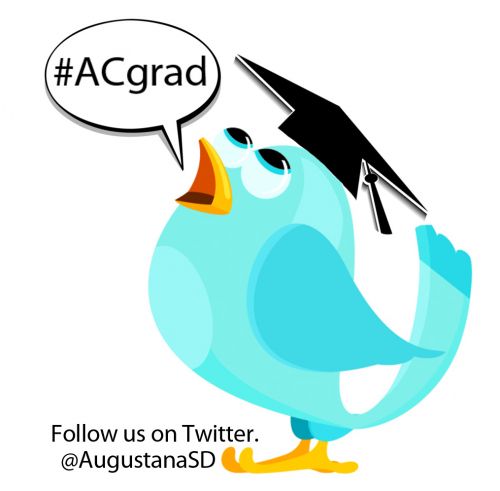 Official Twitter Hashtag for Commencement: #ACgrad
Connect with other families, alumni and students during graduation via Twitter by using the #ACgrad hashtag. What is a hashtag, you might ask? It is a simple search term you can use within Twitter to link your post with others on the same topic. Talk about your travels to campus, the speaker, the joys of seeing your son/daughter/brother/sister/friend graduate from Augustana!
 
Contact Information:
Phone: 605.274.5417 or 800.727.2844
E-mail: commencement@augie.edu