Archbishop of Sweden to Speak on Campus
Event Details
---
Date: November 29, 2017
Times: 7 p.m.
Location: Chapel of Reconciliation
Ticket Info: Free and open to the public
---
Rev. Dr. Antje Jackelén, archbishop of Sweden, will discuss "Reformation and Responsibility in the World" at 7 p.m. on Wednesday, Nov. 29, in Augustana's Chapel of Reconciliation.
The event is part of the University's celebration of the 500th anniversary of the Reformation.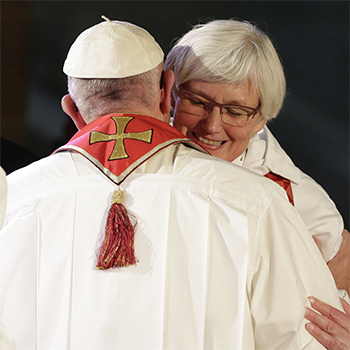 Jackelén, with the Lutheran World Federation, was instrumental in inviting Pope Francis to Lund, Sweden, for a service in October 2016 initiating the 500-year commemoration (see photo).
Her lecture at Augustana will be preceded by prayers spoken by Rev. Dr. Paul Rohde, campus pastor at Augustana; Rev. Kevin O'Dell of St. Therese Parish in Sioux Falls; as well as Lutheran and Catholic Augustana students. 
The event is free and open to the public.