Symposium Features Student Research
Event Details
---
Date: April 6, 2019
Location: Hamre Recital Hall and the Humanities Building for presentations and poster sessions
Ticket Info: Free and open to the public
---
The Arthur Olsen Symposium, a gathering that fosters and celebrates student research, will be held Saturday, April 6, in Hamre Recital Hall and the Humanities Center.
Presentations will showcase student work from departments across campus.
View last year's student presentations and poster presentations.
---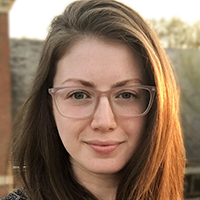 The 2019 Symposium will feature a keynote by Kaeti Hinck '07, currently a Nieman fellow. As an editor at The Washington Post, she led a team of visual journalists, developers and data reporters. She has been involved with some of the Post's most ambitious projects, including investigations about unsolved murder, segregation in America, drug industry corruption and police shootings. Hinck previously worked as design director at the Institute for Nonprofit News and has explored the power of visual communication, technology and design in newsrooms for more than a decade. During her Nieman fellowship, she is researching how neuroscience and psychology can inform the news ecosystem and reshape approaches to product design, visual journalism and trust.
About the Symposium
The Arthur Olsen Student Research Symposium is a gathering that fosters and celebrates student research at the university. The structure of the Symposium follows that of a traditional academic conference, and Augustana students from all disciplines are invited and encouraged to present their original research in this forum. 
In 2015, the family of Dr. Arthur Olsen made an endowed gift to support the Augustana Symposium and student research. In honor of that gift and in tribute to Dr. Olsen's many contributions to the campus community and student research, the Augustana Symposium was renamed the Arthur Olsen Student Research Symposium.
The Arthur Olsen Student Research Symposium is supported by the Office of Academic Affairs, Civitas, Mikkelsen Library and UBG.