CANCELED: 31st Annual Nursing Research Symposium
Event Details
---
Date: March 27, 2020
Times: This event is canceled.
Ticket Info: If you purchased tickets for this event, your order will be refunded to your method of payment within 7-10 business days.
Due to concerns related to the potential spread of coronavirus (COVID-19), this event is canceled.
The 31st annual nursing research symposium was previously scheduled for Friday, March 27, in the Hamre Recital Hall of Fryxell Humanities Center on Augustana University's campus.
---
Living Nursing Scholarship: Research, Theory and Practice
The overall goal of this symposium is to provide an opportunity for nursing faculty, practitioners and students to participate in a learning experience exploring research, theory and practice through the presentation and discussion of scholarly work in nursing.
Upon completion of this symposium, participants will be able to:
Discuss how the results of nursing research impact the health of diverse clients through practice innovations, education and future research
Integrate selected research study findings into nursing practice
Propose innovative solutions to health care problems that can be supported through scholarly collaboration
If you purchased tickets for this event, your order will be refunded to your method of payment within 7-10 business days.

Non-Students $75
| Students $45
---
Full agenda
View the day's agenda.
---
Keynote Speaker
Dr. Janet Carpenter, PhD, RN, FAAN, is a scientist and artist in Indianapolis, Indiana. A distinguished professor and associate dean for research at the Indiana University School of Nursing, Indianapolis, Indiana, Carpenter is one of the world's leading experts in measuring and treating menopausal hot flashes without hormones.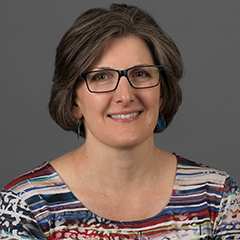 Over the last 20 years, Carpenter created a hot flash measurement toolkit and tested different treatments for hot flashes from medications to slow, deep breathing. A scale she developed, the Hot Flash Related Daily Interference Scale, is available in 12 languages and used internationally.
Her honors and awards include 2016 Sigma Theta Tau International Nurse Researcher Hall of Fame and a 2017 Indiana Woman of Achievement. As an artist, she has experience in dance, theatre, music, creative writing, needle arts, painting and jewelry making. She has juried for art shows and one of her paintings titled "A Fiery Woman" was chosen for a special exhibition in Indianapolis in 2017.
Her most recent project uses art to teach the public about menopausal hot flashes. The "Hot flashes? Cool!TM" exhibit, originated by Dr. Carpenter, uses sculptures, digital visual media, and music to create a new collective image of hot flashes, challenge myths, tackle misinformation, provide accurate and culturally relevant information. With research funding from Pfizer Inc., Carpenter has studied the impact of the exhibit on the public. Her future plan includes showing the exhibit nationally and internationally to spur dialogue and motivate social action around the topic of menopausal hot flashes.
---
Poster Presentations
Collaborating with Rural Practice Partners to Address the Need for Registered Nurses in Primary Care
Robin Brown, PhD,RN; Heidi Mennenga, PhD,RN; and Marie Schmit, MS
Waterbirth Effects on Neonatal Outcomes
Haley Hoefer, Cheyenne Christensen, Melissa DeCook, Joshua Friese, Heather Hoy, and Hannah Stein
Advance Care Planning in South Dakota Women Who Farm and Ranch
Theresa Garren-Grubbs, MS, RN, CMSRN, CNL
Cannabinoids Effect in Pain Control with Cancer Patients
Tram Kim, Zach Dorgan, Mackenzie Huber, Ladislav Nemecek, Breanna Swee, and Christopher Vinatieri
Suicidality Concept Analysis: An Evolutionary Approach
Tamara Keefner, PhD, RN
Relation between Male Circumcisions and Sexually Transmitted Infections in the United States
Hannah Burtt, Paige Werner, Krystal Kvalheim, Sarika Khadka, and Kathleen Hupp 
The Effects of Skin to Skin Contact and Preventing Hypothermia in Neonates
Gracee Krall, Marquelle Edlund, Erin Denning, Bailey Van Zee, Brooklyne Miller, and Ericka Cockburn
American Indian Cancer Survivors' Perspectives on the Cultural Adaptability of the COMFORT Communication Curriculum: A Pilot Study
Mary J. Isaacson, PhD, RN, CHPN(R); Victoria L.S. Britson, Tinka Duran, and Richard Mousseau
Animal-Assisted Therapy in Dementia Patients
Ella Otten, Shantel Schlimgen, Jamie Sorensen, and Destini Oehlertz
Is Nursing Intuition More Effective than Early Warning Scores?
Garrett Brooks, Meydee Okello, Brenna Zirpel, and Makayla Kuhn
Preventing Nursing Burnout by Mindfulness
Abby Hora, Jonathon Liudahl, Alexandra Peterson, and Tsega Tesfay
Effectiveness of Aromatherapy in Treating Labor Pain and Anxiety
Jocelyn Guenther, Taylor Koch, Britney Moeller, and Aggie Salzwedel
Effectiveness of Cannabidiol Oil and Anxiety
Terren Geffre, Nicole Little, Madeline Maloney, and Kayla Thornberry
Pain Control Through Music Therapy
Kirsten Knutson, Doanh Do, Bridget Robinson, and Peace Omowonuola
---
Sanford Health is approved as a provider of nursing continuing professional development by Ohio Nurses Association, an accredited approver by the American Nurses Credentialing Center's Commission on Accreditation (OBN-001-91).