'Christmas on the Prairie' at Beaver Creek Lutheran Church
Event Details
---
Date: December 8, 2018
Times: 7 p.m.
Location: Beaver Creek Lutheran Church (1111 W. 33rd St.) on Augustana's campus; Heritage Park is south of 33rd Street between Grange and Prairie avenues.
---
Nordland Heritage Foundation presents 'Christmas on the Prairie' at 7 p.m. Saturday, Dec. 8, at Beaver Creek Lutheran Church (1111 W. 33rd St.).
Bring a friend and join us for a Christmas Celebration from the past. This will be a traditional Christmas service featuring Christmas carols, a children's presentation, readings, treat bags, refreshments and a visit from Santa.
The public is welcome and the event is free.
The Nordland Heritage Foundation is the organization dedicated to the preservation and the sharing of the historic buildings in Heritage Park, located south of 33rd Street between Grange and Prairie avenues.
About Heritage Park
Heritage Park is a collection of historic Great Plains buildings dating from the late 19th to early 20th century.
The Beaver Creek Lutheran Church is one of the oldest churches established in Lincoln County. It was completed in 1892 in LaValley Township east of Sioux Falls. The architectural style is Vernacular Gothic Revival, which attempts to combine European attributes with the prairie experience. The church is made almost entirely of wood, the main building material available on the prairie at the time. As the rural population declined, the church's congregation voted to close its doors in 1978. It was then offered to Augustana and was moved to its present location in Heritage Park in 1985.
The Berdahl-Rolvaag House was named for the Berdahl family who built it and for author Ole Rolvaag, whose novels "Giants in the Earth," "Peder Victorious," and "Their Fathers' God" tell the stories of Norwegian immigrants who came to the area in the 1870s. Rolvaag, a 1901 graduate of the Augustana Academy in Canton, married Jennie Berdahl while she was living in this house with her parents. The house is listed in the National Register of Historic Places.
The Eggers School House is an example of early South Dakota educational facilities. The school was built in 1909 on an acre of land near Renner Corner. After serving as the daily social gathering place for an average of 15 students for nearly 50 years, only four children were enrolled in 1957. The school eventually closed and was purchased and preserved by James Wehde, a former student at the school.
The Rolvaag Writing Cabin, in which the best-selling "Giants in the Earth," called a "moving narrative of pioneer hardship and heroism," by Atlantic Monthly, was written between September and October 1923, was a gift from the Rolvaag family. It was moved from its original home in northern Minnesota with help and planning from the U.S. Forest Service.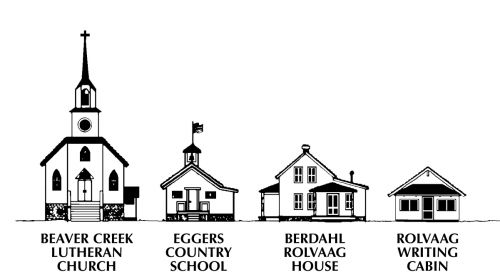 Heritage Park is located south of 33rd Street between Grange and Prairie avenues.