Native Hope Comes to Campus for Native American Heritage Month
Event Details
---
Date: November 20, 2019
Times: 7:00 p.m.
Location: Froiland Science Complex 114
Ticket Info: Free and open to the public
The Augustana Office of Diversity and Inclusion is pleased to celebrate Native American Heritage Month with Native Hope performing at 7 p.m. on Wednesday, Nov. 20, in Froiland Science Complex 114.
The event is free and the public is invited. First Year Seminar credit will be offered to AU students.
The mission of Native Hope is to dismantle barriers, bring healing, and inspire hope for Native people through the power of storytelling.
Visit Native Hope at www.NativeHope.org for more information.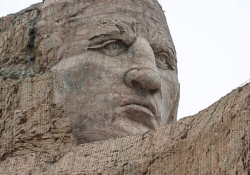 Did you know?
Facts about Lakota:
► "Lakota" and "Dakota" are different pronunciations of the same
tribal name, which means "the allies."
► The original
Lakota homelands
were in what is now Wisconsin, Minnesota, and North Dakota and South Dakota. Today, most Lakota people live in the Dakotas, Minnesota, Nebraska and Saskatchewan.
► Like most Native American tribes,
each Lakota community lives on its own reservation
("reserve," in Canada), which belongs to them and is legally under their control. However, the U.S. and Canadian governments still consider the Lakotas citizens. Each Lakota band has its own government, laws, police, and other services, just like a small country.
In photo:
The
Crazy Horse Memorial
celebrates the Native American war leader of the Oglala Lakota
.
Augustana University is located on the ancestral territory of the Oceti Sakowin (Seven Council Fires), an alliance that consisted of the Santee, Yankton, and Teton Lakota. They are commonly known as the Sioux by non-native people. The seven tribes now occupy nine different reservations in South Dakota. The nine reservations are: Cheyenne River Sioux Tribe, Crow Creek Sioux Tribe, Flandreau Santee Sioux Tribe, Lower Brule Sioux Tribe, Oglala Sioux Tribe, Rosebud Sioux Tribe, Sisseton-Wahpeton Oyate, Standing Rock Sioux Tribe, and the Yankton Sioux Tribe. Augustana University honors and respects the diverse Indigenous peoples connected to this territory on which we gather.