Faculty
---

Dr. William J. Swart
Ph.D. University of Kansas, M.A. Marquette University
Professor, Chair (Sabbatical 2020-2021), & Director, Civitas University Honors Program
605.274.5329
william.swart@augie.edu
Dr. Swart teaches in Ethnicity, Native American Studies, Sociological Theory, courses in the Criminology, Deviance, and Law Major/Minor, in addition to a wide range of global education courses in countries including Ireland, Northern Ireland, England, Germany, Australia and Spain. His research considers the broad influence of globalization on local politics, economics, and identities. Dr. Swart's recent book, 
NASCAR, Sturgis, and the New Economy of Spectacle
(2017 Brill) explores the economic structure of motorsports spectacles as a facet of the contemporary American economy of spectatorship. He earned his master's degree in sociology from Marquette University and his Ph.D. in sociology from the University of Kansas. Dr. Swart is a member of the Augustana chapter of Alpha Kappa Delta (International Sociology Honor Society), and is currently director of Augustana's Honors Program, 
Civitas
. Dr. Swart was one of two recipients to be awarded the Granskou Award for Professional Development in 2011-2012. 
---

M.S. South Dakota State University
Instructor
605.274.5302
susan.bunger@augie.edu
Prof. Bunger earned her bachelor's degree with an emphasis in sociology from Augustana and her master's degree in sociology from South Dakota State University. She is a member of Phi Kappa Phi Honor Society, Gamma Sigma Delta Honor Society, and Augustana chapter of Alpha Kappa Delta. The courses Prof. Bunger teaches include Native American Social Systems, Aging Studies, and The Injustice of Social Justice.  Her areas of study include social stratification, inequality in society, and cultural diversity. Bunger's master thesis "The socio-economic influences on the all-volunteer military" addresses the inequality of sacrifice. Prof. Bunger is a contributing columnist for the Argus Leader.
---

Ph.D. Yale University
Assistant Professor, Interim Chair 2020-2021
605.274.5222
carolyn.ly-donovan@augie.edu
Dr. Ly-Donovan offers courses in Organizations, Culture, Social Inequality, Gender, and electives in the Medicine and Healthcare Systems Major/Minor. She earned her Ph.D. from Yale University and her B.A. (summa cum laude, Phi Beta Kappa) from Hunter College, City University of New York. Her work explores mechanisms of inequality with particular focus on organizations and culture. She primarily engages in archival research, ethnography, and interview methodology to examine dynamics of inequality and is currently working on, "Re-presenting Native Americans in South Dakota's Archival History" a Public Humanities Initiative project with Assistant Professor Anna Reich, sponsored by the Council of Independent Colleges (CIC) and supported by the Andrew W. Mellon Foundation. Her most recent publication, co-authored with Augustana graduates, examines the South Dakota State Medical Association (SDSMA) and the professional association's role in institutionalizing health care in the state (with particular attention to Native American healthcare policy). She has previously published research on the significance of neighborhood libraries and has ongoing research on municipal fire organizations and their occupational culture. Dr. Ly-Donovan is a Faculty Fellow of The Yale Center for Cultural Sociology and Mayoral appointed Commissioner on the City of Sioux Falls Disability Awareness Commission. She has also been selected by Brandeis University's International Center for Ethics, Justice and Public Life as the ENACT (The Educational Network for Active Civic Transformation) Faculty Fellow representing South Dakota.
---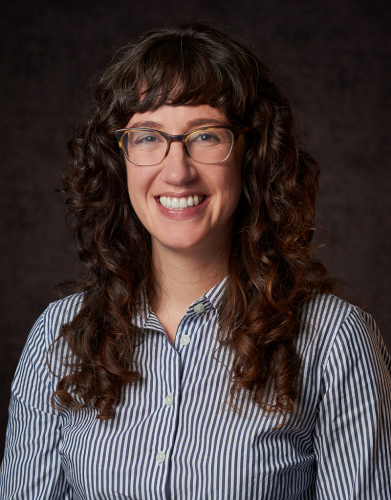 Ph.D. University of Notre Dame
Assistant Professor
605.274.5212
kelcie.vercel@augie.edu
Dr. Vercel is a sociologist specializing in family, culture, and consumption. She is particularly interested in the ways meanings of family, work, and the home impact intimate relationships, economic decisions,and communities. Her dissertation investigates how home stages, homebuilders, and realtors translate their ideas about the home into housing interactions and into the material qualities of houses. Her research reveals how their decisions shape the landscape of housing in the U.S. and conrtibute to symbolic exclusion. Dr. Vercel's other research has investigated definitions of fatherhood among low-income fathers and meanings of work and leisure among lifestyle bloggers. She offers courses in the Family and Community Services Major/Minor, Research Methodology, and topics in Cultural Sociology.
---
Faculty Emeriti

Ph.D. University of Minnesota
Professor Emeritus
Dr. Schrader taught an array of courses at AU over 25 years, retiring at the end of the 2018-19 academic year.  With extensive background in health care organizations, she continues to support the department in its offerings of internships and online courses in Aging Studies. Research interests have included South Dakotans' end-of-life preferences, the lived experiences of centenarians, reflections on what it means to be grandchildless, and most recently, nurses' experiences of providing support to family and friends "off the clock."  Dr. Schrader earned her Ph.D. in Sociology from the University of Minnesota and her B.A. (triple major, magna cum laude, Phi Beta Kappa) from St. Olaf College.