Four Inducted into German National Honor Society
Four Inducted into German National Honor Society
Saturday, May 4, 2013
The Augustana College chapter of Delta Phi Alpha held a dinner at the Fellows' Presidential Residence on Saturday, May 4. Four new members were welcomed this spring.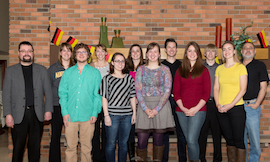 Andrew Gardner
Spencer Hopewell
Molly Kokesh
Jeffrey Nielsen
Other Delta Phi Alpha members who attended the event were Andrew Erickson, Jordan Erkens, Jessica Haugo, Marissa Knaak, Dan Mueller, Rabecca Pruitt and Kristyne Walth, as well as guest Kelly Silvers.
The dinner was preceded by Marissa Knaak's presentation of her German honors essay "Der Vertrag von Versailles: Die letzte Tragödie des Ersten Weltkriegs."
Eta Delta, the Augustana chapter of Delta Phi Alpha, honors its members and their successful study of German language, culture, and civilization with a dinner each semester. The advisor of Eta Delta is Dr. Stephan Lhotzky, Professor of German. The Delta Phi Alpha National German Honorary Society began with the founding of the Alpha chapter at Wofford College in 1927, and now has constituent chapters at 236 colleges and universities throughout the United States.