That Augustana Bond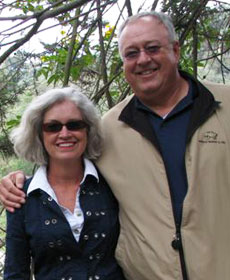 There are many ways to describe Lee and Karen Larsen: world travelers, committed and caring volunteers, Augustana supporters, reluctant role models.  Thankfully, the Larsens' love for the College outweighs their humility when it comes to talking about their passion for supporting Augustana, both with their time and resources.
Their affinity began when they were students in the late 1960's. Karen and Lee feel strongly about the importance of the relationships they have formed because of Augustana, from the many professors who served as instrumental role models and lifelong college friends to new acquaintances and friends they have met in recent years—all grounded in that Augustana bond. "We have stayed connected to the College because it is like a family. You don't lose touch with your family!"
Theirs is a long history of giving to the College. "When you have such a good experience, you just want to give back," says Lee.  He is a tireless volunteer in making calls for Booster Club membership and for the Booster Club auction.
The Larsens say the greatest impact they can have will be through a deferred gift through their estate. They have established a planned gift of four endowed scholarships and are very excited about the future impact. "Scholarships can be that path to fulfilling dreams," the couple believes.
When Lee and Karen are not busy helping Augustana, they can most likely be found traveling the world or spending time with their children and grandchildren. After Lee retired as Senior Vice President with Wells Fargo after a 34-year career with community banking and marketing, and Karen retired from a career in sales and marketing, they pursued their passion for traveling and have visited such places as Europe, Russia, Australia, New Zealand, Fiji, Israel and the Galapagos Islands. Lee has maintained his longtime membership on the board of directors of the famous Iditarod dog sled race.
When asked for final thoughts, Lee and Karen say, "We just want to encourage other alumni and friends of the College to give. Why? Well, simply speaking, it's fun! We have experienced this wonderful sense of joy by supporting Augie. People just need to come to campus and see all that is happening there … it is something you will want to be a part of."