Go Viking: Fall 2011
View from Summit Avenue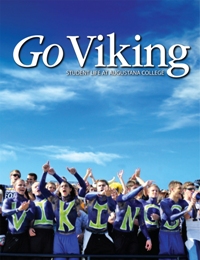 A Message from Rob Oliver, President of Augustana College

Like millions around the world, I was saddened to learn of the recent death of Apple co-founder Steve Jobs.
Following his death, Jobs was hailed as a visionary – the leader of "… a cultural transformation in the way music, movies and mobile communications were experienced in the digital age …" according to the New York Times.
As I read the various eulogies of his life, my thoughts fell to early 2010, when Jobs – clad in his classic black shirt, blue jeans and sneakers – introduced a new device called the iPad during a high-profile product launch.
As he greeted a room filled with eager reporters, analysts, investors and tech gurus, he stood on a stage before two street signs – one read "Liberal Arts," the other read "Technology."
Apple, he argued, 'stood at the intersection of the liberal arts and technology.'
At the time, his remarks caused me to think about the idea of "intersections," and how they relate to what we do at Augustana.
In the wake of his death, I thought about it even more.
I believe that Augustana sits at the intersection of the liberal arts and life – unbinding, absolute, passionate, all-consuming life. What we do here – the broad-based knowledge our talented professors provide; the support and guidance offered by our seasoned residential life teams; the exposure and perspective gained through international travel; and the ideas that swell from a culturally and ethnically diverse campus – defines the liberal arts. After their time at Augustana, we believe that our graduates are well-suited to contribute and thrive in virtually any field because their foundations are strong – constructed with the materials deemed most durable for success in today's world: faith, history, science, literature, language and service.
This issue includes features on Augustana students and alumni who illustrate the idea of "intersection" in action – they are individuals from a variety of backgrounds and majors – but they all say the same thing: the liberal arts education they are receiving or have received here will help prepare them for where they want to go tomorrow.
David Wolter, class of 2004, is a great example.
David had planned on majoring in business but instead, pursued his love of drawing. He changed his major to art, developed a comic strip for The Mirror, the Augustana student newspaper, and recently landed his dream job as a story artist with Dreamworks.
"So many things [I learned at Augustana] dove-tailed nicely with what I'm doing now, such as "Creative Writing" with Dr. Patrick Hicks and "World Making" with Dr. Richard Swanson," he said.
I'm curious – have you, too, found yourself at an intersection yet? I'm hopeful you'll consider joining us at Augustana to learn where your life's path can take you.
Enjoy this issue!
Yours, for Augustana,
Rob Oliver
President