French Language Summer Camp
All French Camp classes are taught by instructors with native or near-native proficiency in French; classes take place on the campus of Augustana University. With a commitment to high quality second-language instruction, French Camp classes must have a minimum of five students and reserves the right to cancel camp classes if the minimum enrollment is not met. Contact the Institute for additional information or to register your child.
French Language Summer Camp 2017: Sailing les îles tropicales!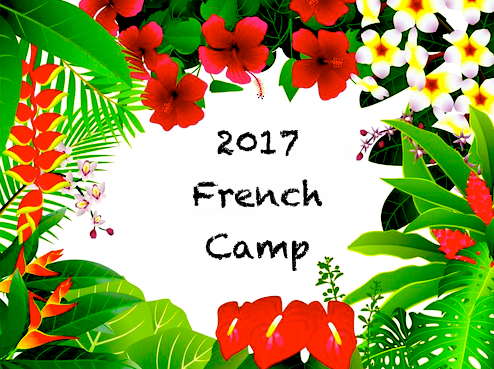 Grab your sunglasses and join us for fun in the sun while we sail around the French islands! We will be "touring" the beautiful French Caribbean and Polynesian islands...You need not worry about sand in your shoes....just shake it out! Come experience French Camp: Les îles Tropicales this summer while learning French in a fun and sunny environment. French is taught through interactive, hands-on activities of art, music, dance, food, and drama. There is never a dull moment on the hot sands of Tahiti, Martinique, Guadeloupe, and Bora Bora! Oh, and sunscreen IS required!
French camp participants will need to bring a sack lunch and beverage each day, and a swimsuit and towel for fun at the Elmen Center Pool. Daily snacks are provided. Parents/guardians are invited to a final presentation from 2:00‐2:30 p.m. on Thursday June 29.
Dates: Monday June 26-Thursday June 29, 9:30 AM-2:30 PM
Ages: 5-15 (completed kindergarten and up)
Cost: $190. Cost includes: snacks, drinks, all course materials, and fun at the pool!; Minimum of half payment due at time of registration. Cancellation policy: half payment reimbursed up until 2 weeks prior to camp. Make checks payable to Augustana University—in the Memo line add: Language Institute).
Registration Deadline: Friday, June 16. Register today. Information: 605.274.5410
Location: Augustana University—Morrison Commons, 3-in-1 Room 30th & Grange Ave., Sioux Falls, SD 57197
Drop Off/Pick Up: Drop off and pick up in the front lobby of the Morrison Commons. Please come in the building to get your children.
Instructors
Originally from Belgium, Madame Florence Thompsen holds a Diplôme d'institutrice primaire from Les hautes écoles de Charleroi, in Mons, Belgium. She has taught first- and second-semester French at Augustana.
Madame Shannon Graber once taught in a French immersion program out of state and, after moving to Sioux Falls, she helped pioneer the popular Spanish Immersion program.
Parent Reviews of Previous French Language Camps
"French Camp was very interactive and filled with hands-on activities. The teachers were joyous and my girls looked forward to coming every day!"
"N. [my child] came home each day excited to tell me what he did at French Camp. I especially liked that he would jump out of bed in the morning anxious to get back to camp."
"French Camp was, of course, fun and educational. More importantly, it was a week my daughter will remember for a lifetime!"
Photos from Previous French Language Camps