Meet Dr. Kristen (Thomas) Zeller '97
Assistant professor of surgery and pediatrics,
Wake Forest Baptist Medical Center
Winston-Salem, North Carolina
— English major
Q. How did you choose Augustana?
A. My mother, grandparents, and many other relatives were all Augustana graduates. Although I looked around at several other schools and had opportunities to go elsewhere, Augie was where I felt at home. I'm proud to be a third generation Augustana grad, and I hope my children will consider Augie when they are older.
Life at Augie
Q. Favorite class and why?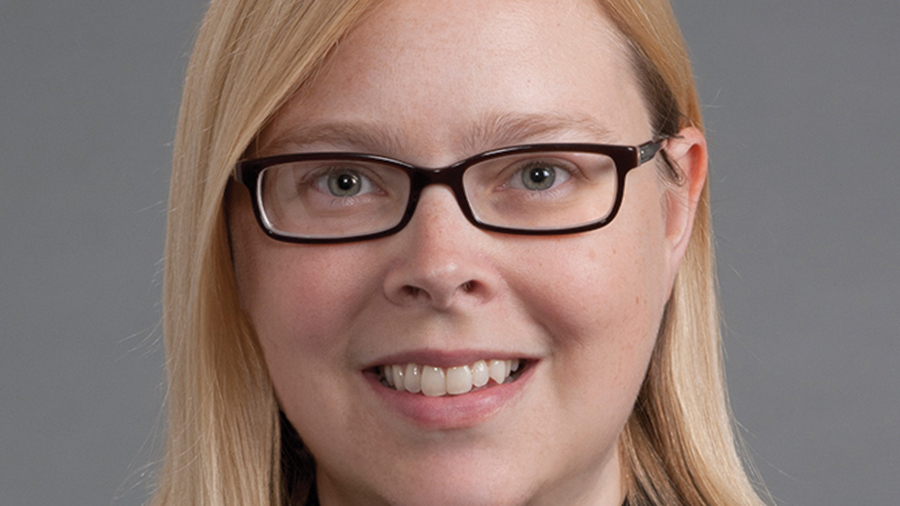 A. Dr. Looney's Shakespeare course. Even though I was headed for a career in medicine and spent a lot of time in Gilbert Science Center, it provided such balance to submerse myself in literature. Dr. Looney helped me gain a much more critical appreciation for Shakespeare's plays and reveal the subtle layers embedded in the text. A few years ago I wrote a scientific paper on sentinel lymph node mapping for colon cancer and I opened the paper with a "Hamlet" reference. I don't know if anyone else reading the paper appreciated it, but it made me smile to integrate two divergent interests.
Q. Favorite professor and why?
A. It's a three-way tie between Drs. Sandra Looney, Lansing Prescott, and Gary Earl. Dr. Looney taught me that "we know what we are, but know not what we may be." Dr. Prescott helped me raise my expectations for myself and aspire to a career in medicine. Dr. Earl accomplished the impossible task of getting me to appreciate (and I dare say like) chemistry.
Q. Best Augie memory?
A. Sneaking into Old Main to ring the bell! It's great to know that the bell is an important part of campus life again. I hope that in the future Old Main can be renovated. It's a beatiful building and is an important part of the college's history.
After Augie
Q. Tell us about your journey after graduating from Augustana – first job, grad school, travel, etc.
A. After leaving Augustana, I did a year with the Lutheran Volunteer Corps (LVC). I lived in Minneapolis and worked first with the AAHWM (Association for the Advancement of Hmong Women in Minnesota), and then for Clinic 42, an outpatient clinc that provided care for HIV positive patients. After my year with LVC, I started medical school at the University of South Carolina in Columbia. I graduated with my medical degree four years later, and then started my five-year general surgery residency at Wake Forest Baptist Medical Center. From there, I spent a year doing a Surgical Critical Care Fellowship at Boston Children's, followed by a year doing an Acute Care Surgery Fellowship back at Wake Forest, and then a two year Pediatric Surgery Fellowship at Riley Hospital for Children in Indianapolis. After completing nine years of surgical training, I returned to Wake Forest in 2011 to finally take my first real job, joining the Department of Surgery at Wake Forest as a pediatric surgeon.
Q. Tell us about your career – what's an average day like?
A. Every day is different, and that's one of the things I love about it. Most days I'm in the operating room, but I also see patients in clinic, the emergency department, and even before they are born, counseling parents when their child has been diagnosed prenatally with a congenital malformation that may require surgery after birth. I also have the opportunity to teach surgical residents and medical students. Being involved in medical education helps keep the experience fresh and exciting, and certainly keeps me on my toes. I take care of patients with surgical needs from birth to adulthood, doing operations for appendicitis, hernias, cancers, congenital malformations, trauma, and also providing extracorporeal life support for patients with severe respiratory failure.
Q. Greatest challenges and best rewards of your current role?
A. The most challenging part of my work is delivering bad news to parents. It is very inspiring to work with families when they are struggling with the illness of a child. The strength with which they face such adversity is always humbling. Out of these situations arrise my greatest rewards. When a patient or parents says "thank you" all the work and effort is validated.
Q. Greatest professional accomplishment thus far?
A. A year ago I became a Fellow in the American College of Surgeons.
Q. What's next for you professionally?
A. I have an interest in quality and safety initiatives in surgery. Our first obligation is to keep our patients safe from harm. Science has helped us make huge advancements in the treatments we can offer, but our commitment to safety and prevention of errors is equally important in our ability to save lives.
Q. If you could offer a prospective or existing Augie student some advice, what would you say?
A. A good liberal arts education can prepare you for anything you might want to accomplish in your career. Take advantage of your opportunities in college to take courses in disciplines that are outside your chosen field.
At Home
Q. Tell us about your family.
A. I have a wonderful husband, Kevin, to whom I have been married for almost 8 years. We have three children; Zachary is 6 years old, Owen is 2 years old, and Anna Fern is 10 months. Striking a balance between family and work is never easy, and I certainly don't have the answers on how to make it work smoothly all the time, but I do know that being passionate about my job and having a loving, supportive family make it possible to do more than I ever thought possible.
Q. What's given you the greatest personal satisfaction since graduating from Augie? And why?
A. Having a family. My work is fulfilling, but the support of a loving family is what makes it meaningful. I feel so blessed to have met my husband. The work of raising kids together is such a blend of fun, exhaustion, gratitude, wonder, and chaos. Every day is a new adventure.
Q. A foundation for life at Augustana begins with our five core values – Christian Faith, Liberal Arts, Excellence, Community and Service. How did your time at Augustana help to ensure those values remain central in your life?
A. These were values first instilled in me by my parents, and later reinforced by my "Augie family." Spending four formative years in an environment focused on these core values helped set me on the right path.