Omaha World Herald: 2003 Alumna Debuts New Musical
Omaha World Herald:  A Big, Fat Musical Premiere
Amanda Miller got so starved for musical theater, she sat down and wrote one. Miller, a familiar actress on Omaha stages, was teaching music in the St. Paul, Neb., schools in 2004 when she began writing "Fat Girlfriend, the Musical." The show opens April 16 at the Shelterbelt Theatre.
"I wanted to write a show with song and dance numbers that was funny," Miller said last week while dashing between jobs as a freelance music teacher and an online trainer, plus directing her show.
Her starting point was the character Jenny, who is in love with her roommate. Handsome Paul is a big man on campus, and Jenny thinks he's too perfect for her. Best friends Kate and Gabe decide to help Jenny win Paul in time for the couples-only wedding of Jenny's grandmother.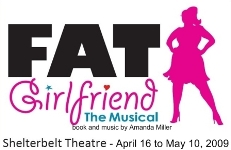 "Rather than a body type, I see a fat girlfriend as anyone who has something that keeps guys from thinking of her romantically — her brain, her look, something. She's the female equivalent of the gay boyfriend."
Miller, 28, began by writing songs around that theme, then wove in a story that incorporated bits of real-life situations. None of the characters is her, she said, yet a small part of her is in each character.
For years Miller has been trying out "Fat Girlfriend" songs on cabaret audiences, holding readings and refining the show. A deadline for a New York musical festival pushed her to produce a final draft a little over a year ago. Her show didn't make the festival. But it got a warm reception at the Shelterbelt after board members there heard about it from the theater community.
Two more major edits and a workshop-style performance, with audience feedback, have followed since.
"The feedback has been wonderful," Miller said. "The actors helped so much in shaping the characters. And I learned a lot watching audiences watch the show."
The cast of nine includes Caitlin Mabon as Jenny, Andy King as Paul, Erin Stoll as Kate and Dan Chevalier as Gabe. Terry DeBenedictis plays Grandma.
Was Miller tempted to cast herself?
Not a chance. Seeing the show from an outside perspective is essential, she said.
"Besides, I'd go crazy. At this point it's so much work."
Still, Miller isn't done writing musicals.
"This is something I've always wanted to do," she said. "I have about three more musicals ready to go in my head."
For more on this story, visit Omaha World Herald.