Aldrich tabbed Region 5 Coach of the Year
WACO, Texas — The American Football Coaches Association announced Monday that Augustana head football coach Mike Aldrich has been named the Region 5 Coach of the Year in NCAA Division II, as voted on by members of the AFCA.
The 2010 Regional Coach of the Year winners will be recognized at the AFCA Coach of the Year Dinner at the 2011 AFCA Convention in Dallas, Texas, on January 11.
Augustana finished the 2010 season 11-2 and advanced to the NCAA quarterfinals, where the No. 9 Vikings were defeated by No. 1 Minnesota Duluth.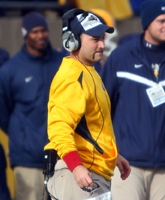 Aldrich's first year as head coach of the Vikings will go down as the most successful season in school history. He led his program to a school-record 11 wins (three more than the previous record) and guided the Vikings to their first playoff appearance since 1989. Augustana also hosted and won its first playoff game by defeating No. 6 Grand Valley State on Nov. 27 at Kirkeby-Over Stadium.
Also doubling as the defensive coordinator, Aldrich's defensive unit finished the year as the Northern Sun Intercollegiate Conference's best — allowing just 229.6 yards per game.