340 Students to Participate in 2011 Commencement
Augustana College today announced that 340 students will participate in the commencement ceremony honoring its Sesquicentennial Class – the class of 2011 – at 2 p.m. on Saturday, May 21, at the Sioux Falls Arena. Doors will open at 1 p.m. for seating.
The ceremony's speakers include:

Jane Zaloudek, class of 1972, principal and director for Aspiriant, a California-based wealth management firm, and former Chair of the Augustana College Board of Trustees.
 
Lowell Stortz, class of 1980, president of Leonard, Street and Deinard, a full-service law firm based in Minneapolis, and former Chair of the Augustana College Board of Trustees.
 
Trent Anderson, class of 2011. A native of Lake Benton, Minn., Anderson will graduate magna cum laude as a triple major in mathematics, physics and chemistry. He is also a Civitas honors graduate.

During his time at Augustana, Anderson has participated in a number of scientific research projects and also spent a summer conducting research at Clemson University. Following the H1N1 pandemic in 2009, he organized and led his own research project that modeled the spread of disease on campus.

As a Distinguished Scholar, he studied in India during his freshman year, an experience he calls amazing. He is a member of the Augustana Choir, Math Club, Society of Physics chapter and the American Chemical Society (ACS) student chapter.

He plans to pursue his Ph.D. in chemistry at North Dakota State University in Fargo. His goal is to work in research at a national lab and eventually teach.
In addition to the confirmation of undergraduate degrees, the College will confer two honorary degrees of Doctor of Humane Letters to alumni Jane Zaloudek, class of 1972, and Lowell Stortz, class of 1980. A member of the Augustana faculty will also be awarded the Jane and Charles Zaloudek Faculty Research Fellowship.
Honorary Degree Recipients
After graduating from Augustana, Jane M.H. Zaloudek earned a certificate in medical technology from Stanford University Medical Center in 1973 and later went on to earn her Master's degree in Business Administration from George Washington University and a degree in Personal Finance Planning from the University of California, Berkeley.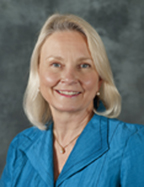 During her career, she worked in medical research at Stanford and conducted pediatric oncology research at the M.D. Anderson Cancer Center in Houston, Texas, and Children's Hopsital in Washington D. C. Later, she pursued a career in financial planning. She currently serves as principal and director at the California-based wealth management firm, Aspiriant.
She is an active civic volunteer and has served and supported a number of nonprofit organizations including Guide Dogs School for the Blind, Inc., the San Francisco Symphony Educational Program, Project Open Hand and the American Cancer Society.
Throughout her professional life, she has remained committed to Augustana. From 1996 to 2008, she served four terms on the Augustana College Board of Trustees, holding a number of key positions, including Chair of the Board. She was responsible for organizing the Presidential Search Committee that led to the appointment of President Oliver, was the founding Chair of the Investment Committee and a member of the Financial Management Committee. Today, she serves as an advisor to the Board's Investment Committee.
After graduating summa cum laude from Augustana in 1980, Lowell Stortz went on to earn his J.D. from the University of Iowa College of Law, graduating summa cum laude in 1983.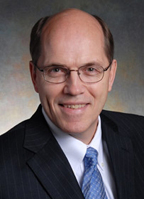 He currently serves as president of Leonard, Street and Deinard, a full-service law firm based in Minneapolis, Minn. During his career, he has served as an adjunct professor of estate planning at University of Minnesota Law School, Hamline University School of Law and University of St. Thomas School of Law. He is also a frequent lecturer on tax and business planning for Minnesota Continuing Legal Education.
Stortz has a long-standing commitment to community service and actively provides legal advice and business counsel to nonprofit organizations and charities serving those in need including, the Minnesota Chapter of the Arthritis Foundation, the Lyngblomsten Foundation, the Minnesota AIDS Project, Our Savior's Homeless Shelter and many others.
From 1999 to 2010, he was a key member of the Augustana College Board of Trustees, even serving as Board Chair from 2007-2009. He championed the Board's professionalization and helped promote a sense of shared purpose, mutual respect and friendship among all members of the Augustana Community.
Further weekend details are available at www.augie.edu/commencement.