Alexander-Alton Article Published in National Physics Journal
An article authored by Belview, Minn., native Tom Alexander, class of 2011, and Dr. Drew Alton, assistant professor of physics, is featured in the June issue of Physical Review D, a national scientific journal.
The article illustrates another mark on the Physics Department's impressive growth chart. From 2005 to the 2010-2011 academic year, the department saw a 57 percent increase in the number of physics majors, many of whom participate in undergraduate research. Since 2005, 16 different Augustana students have co-authored peer-reviewed physics articles.
Titled "A possible explanation for NuTeV's anomalous dimuon events," the Alexander-Alton article proposes an explanation of a previous experiment's (NuTeV) observation of three events with a pair of muons in an experimental configuration where even a single event of that type was statistically unlikely for the duration of the run. Alexander and Alton propose that the anomalous events are produced by neutrinos interacting with dark matter particles that have been carried along by the halo surrounding our own Milky Way galaxy.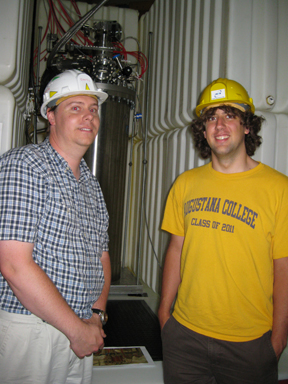 Dark matter is among the most perplexing problems in physics today. First noticed in the 1930s, the mysterious substance interacts with other objects via gravity, however it doesn't absorb or emit light. Dark matter has been at the center of a number of recent cosmological observations and is a primary scientific objective of the Sanford Underground Laboratory in the former Homestake gold mine near Lead, S.D.
A physics and business communications major, Alexander is conducting research this summer at Augustana and at Italy's Laboratori Nazionalidel Gran Sasso as part of the College's Summer Research Program. The work was supported by the South Dakota Space Grant Consortium, Research Corporation, the Augustana Research and Artists Fund, and the State of South Dakota CUBED Center.
During his senior year, Alexander received the Augustana Covenant Award for Liberal Arts, an award that recognizes a student who has demonstrated a love of learning for its own sake; who has forged connections between academic disciplines; connected curricular and co-curricular interests; related his or her studies to important issues of human existence; and whose commitment to the liberal arts shapes his or her plans for the future.
During his college career, Alexander served as founding president of the newly formed Augustana Society of Physics Students (SPS) and as a member of Lamda Pi Eta. He was a member of the Augustana Band and was a member of Serving and Learning Together (SALT). He also served as a peer advisor in Stavig Residence Hall.