In the News: Work by British Archaeologist, Augustana Collaborator Highlighted
Augustana's Dr. Adrien Hannus and his anthropology majors know British archaeologist Dr. Alan Outram, head of Archaeology at the U.K.'s University of Exeter, well – he is a long-time research colleague and a teacher through the exchange program the two institutions share.
Outram's work on horse history has been detailed in National Geographic magazine and was recently featured in the news outlet's newest publication, Exploring History.
The Argus Leader recently caught up with Outram to learn more.
National Geographic Spotlights Work on Horse History by Archaeologist With Local Ties
By Cody Winchester, Argus Leader, Dec. 30, 2011
Two years ago, British archaeologist Alan Outram published a paper in the journal Science that offered an important insight into how early civilizations developed.
Outram and his colleagues found evidence that horses had been domesticated 1,000 years earlier than previously thought, by the Botai people in what is now northern Kazakhstan. The researchers found differences in ancient equine bone structure, fossilized teeth that showed signs of human-made bits and the presence of mare's milk in pottery shards – findings that were reviewed recently in the inaugural issue of National Geographic's new quarterly magazine, Exploring History.
But Outram, who specializes in zooarchaeology (the study of ancient animal bones), also has a South Dakota connection. For the past eight summers, Outram has led a team of student archaeologists from the University of Exeter to excavate at the Prehistoric Indian Village dig site in Mitchell as part of an exchange program with Augustana College. Recent research, co-written with Landon Karr and Adrien Hannus at Augustana and published in the fall issue of the Journal of Field Archaeology, sheds new light on artifacts found between dwellings at the Mitchell site.
Outram, who was traveling for the holidays, answered questions via email.
Question: How is your work on horse domestication connected to the excavation in Mitchell?
Answer: There is actually no direct connection. … In the time that the Mitchell Prehistoric Indian Village was occupied, there were no horses in North America.
Artifact Caching Subject of Third Sunday Archeology Program Set for Jan. 15

The Third Sunday Archeology Program will feature Michael Fosha, Assistant State Archaeologist at the Archaeological Research Center in Rapid City. His talk, "Banking Bifaces, Cache or Cash," will be presented at 2 p.m., Jan. 15, 2012, in Augustana's Gilbert Science Center Auditorium (GSC #100).
There is, however, an interesting story to tell about horses and America, because that is where that family of animals first evolved. Early forms of horse spread out of the Americas when there was still an overland connection to Eurasia. At the end of the last Ice Age, however, horses died out in America, but survived in large numbers on the grassland plains of Eastern Europe and the steppes of Central Asia.
These areas, in many ways, resemble prairie, and the horse is well adapted to living on grasslands that are hot in summer and very cold and snow-covered in winter. Horses were tamed and domesticated by about 5,500 years ago in the forest steppes of Northern Kazakhstan and Southern Siberia, and the use of domestic horses spread throughout Europe and Asia during the Bronze Age. When the Spanish landed in the Americas, at the end of the 15th century, they brought domestic horses with them. Over time, some of these horses went feral and ended up populating the plains.
Native Americans retamed these feral Spanish mustangs, and the horse became a key component of the cultures of Native Americans on the Northern Plains. Because the native inhabitants of the Mitchell village predated the reintroduction of horses by several hundred years, they had to rely on other means of transport, such as using "bull boats" on the rivers and using dogs to drag something called a "travois." You can see replicas of a bull boat and a dog travois at the Archeodome in Mitchell.
Q: How did your collaboration with Augustana College come about?
A: My involvement with Augustana and Mitchell came as a fortuitous result of Dr. Adrien Hannus (professor of anthropology at Augustana) visiting the University of Exeter to see friend and colleague Dr. Bruce Bradley. … Adrien asked me to visit Mitchell to examine the bones of bison hunted by the ancient inhabitants of the Indian Village. I did so the following Easter, and realized it would be a great idea to set up a joint field school with Adrien at the site, and that went ahead in the summer.
Q: Any advice for students who want to study archaeology?
A: Archaeology is, above all, an interesting subject that deals with human development over large spans of time. … There are jobs in archaeology for those wishing to follow it as a career. It can be an interesting and rewarding job, but it's not going to make you rich. … It is a good subject to provide students with a wide range of skills useful in any graduate job. Archaeologists have to use all sorts of evidence ranging from the highly scientific through to literary sources and art. They also need to have good practical skills to work in the field, where there is ample opportunity for teamwork.
Q: The discovery that horses were domesticated 1,000 years earlier than thought — in what way did this change archaeology's understanding of how early societies developed?
A: The use of horses revolutionized transport and trade systems, allowed people to connect over much larger distances and significantly changed the nature of warfare. Without domestic horses the story of Old World civilizations would be a very different one. … It's therefore important to understand how this came about properly, and knowing that it all started rather earlier is significant in that story.
It is not just about when, but also where. The horse was domesticated in a different place from many Old World animals (e.g. cattle, sheep, goats, pigs), which all appear to have first been tamed in the Near East.
We are tending to find evidence that inventions happened earlier than thought, but they don't always have revolutionary effects immediately. It often requires there to be the right cultural and political context for an idea to have most impact. The ancient Greeks knew how to create rotary motion from steam, but made little of this invention, which only came into its own in the industrial revolution of the 18th century. Domestic horses appear to have been around for a while before they had a widespread impact within Eurasia. It would now be interesting to investigate further and find out why.
Q: What are you working on now?
A: I'm currently working on two lines of research. I'm conducting further survey and excavation at Botai in Kazakhstan. These excavations are more about understanding how that particular society developed and functioned, rather than being specifically about horse domestication. Last year, I was joined out there by a team from Cambridge University, who were trying to find out what plants these people ate to go along with their otherwise limited diet of horse meat and mare's milk.
Work at Mitchell continues, and we have recently published some of the results of our excavations. We are also working on the issue of what the villagers were trading with other Native American groups. They certainly received trade items from as far away as the Gulf of Mexico. We found a shell last year that must have come from there. We also found some nugget copper that might have been traded from the Great Lakes. What did the Mitchell village inhabitants trade in return? It might well have been bison products such as dried meat, fat and hides.
Augustana-University of Exeter Exchange
In recent years, Augustana has seen a significant increase in its anthropology majors.
The College is one of a few colleges nationwide to specialize in the study of "Plains pre-history" and is one of a few institutions in North America to offer undergraduate students field study opportunities – on-the-ground, in-the-dirt research initiatives to uncover and research pre-historic artifacts.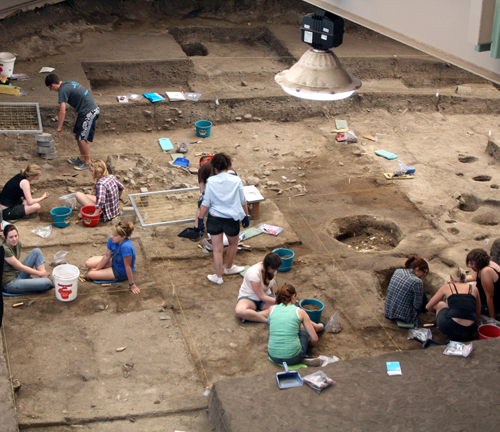 Augustana anthropology majors spend three years on campus and one year abroad at the University of Exeter, an internationally recognized university that was ranked No. 1 in the United Kingdom for archeology in a 2007 National Student Survey.
Through the Augustana-Exeter exchange program, the University of Exeter sends about 20 students from its archeology program to Augustana's South Dakota field school each summer. Along with Augustana students, University of Exeter students spend about four weeks excavating and researching at the Thomsen Center Archeodome, an indoor research and teaching facility located on the site of the Mitchell Prehistoric Indian Village.
The ability to study overseas and a healthy job market for anthropologists have fueled interest in the major, according to Hannus.
"Many anthropology majors go on to become professional anthropologists or archeologists and work either as independent consultants or for engineering or construction firms. Prior to destruction or digging, archeologists and anthropologists are consulted to assess the potential archeological impact of development projects," he said. "Anthropology students are trained to discover evidence, analyze it and come to their own conclusions – ultimately those are incredibly valuable skills that can be applied to any field in any industry."
PHOTO ABOVE: Students from Augustana and the University of Exeter work at the Thomsen Center Archeodome at the Mitchell Prehistoric Indian Village in June 2010.
---
Kelly Sprecher
Communications & Media Relations
605.274.5526