Recent Grad Working in London as Olympic Volunteer
Last summer Megan Erspamer, a 2012 graduate from Madison, Wis., worked as an intern for the U.S. Olympic's Emerging Sport Program in Colorado Springs, Colo.
This summer, she's in London working as a volunteer for Team USA at the 2012 Olympics.
"We are unofficially called the Welcoming Committee for Team USA. For most athletes, we're the first stop on their Olympic journey once they arrive in London. [We're the spot] where more than 1,000 athletes pick up all their gear including ceremony clothing, medal stand outfits and various commemorative items. They also get their photos taken and fill out important medical information. It has been an incredible experience! I have met so many great people, and it has been very cool (and interesting) to see what goes on behind the scenes at the Olympics," said Erspamer, a business administration major.
She's hoping for more Olympic experiences in the future.
"I am already looking ahead at how I could get myself to Sochi in 2014 and/or Rio in 2016. It's been a great educational experience, as well – I've rotated between shipping, packing athlete bags in the warehouse, being a "runner" for athletes (making sure clothing and shoes fit and are comfortable), processing paperwork, welcoming athletes at the front desk and preparing ceremonies clothing. Overall, it's just an incredible atmosphere and culture to be in," she said.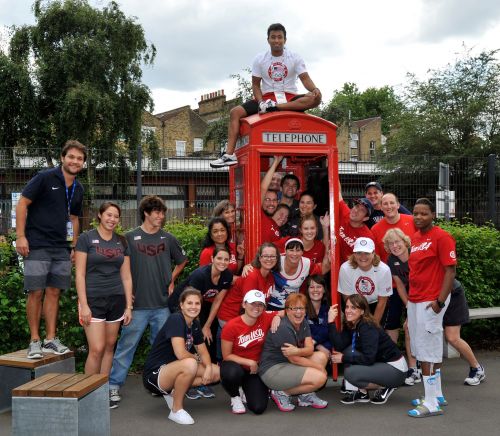 Class of 2012 graduate Megan Erspamer and fellow Team USA Olympic volunteers pose in London near one of the city's signature red telephone booths.